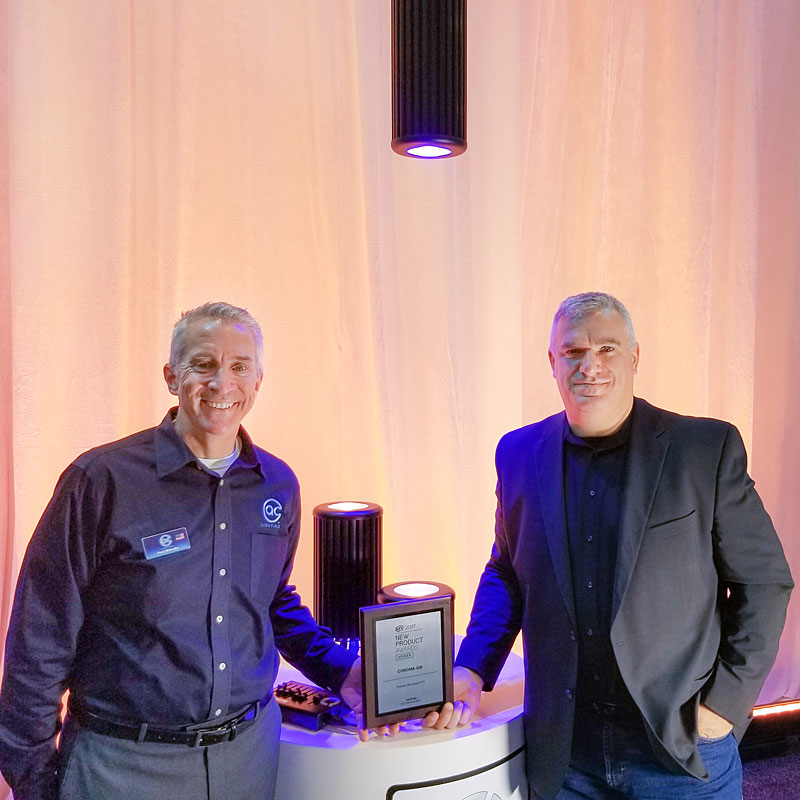 Chroma-Q, a world-renowned brand of premium performance LED lighting solutions, manufactured in North America, is excited to announce that the newly released Chroma-Q Inspire XT won the 'New LED Fixture $1251 and above' award at WFX Tradeshow in Dallas, last week (October 11, 2017).
The Chroma-Q® Inspire XT™ is the award-winning Chroma-Q Inspire™ range's newest and eagerly anticipated addition. The Chroma-Q inspire XT is ideal for the house of worship market, thus making its debut appearance at WFX Expo October 10-12, 2017 in Dallas, Texas. It also works nicely in entertainment and architectural projects and is used by a huge range of leading lighting designers, specifiers, rental and production companies, venues, shows and events worldwide.
Houses of worship are transitioning from the traditional static lighting approach to methods that allow members to become a part of the experience, The Immersive Worship Experience. Visual cues evoke stronger emotions, which makes Chroma-Q's Inspire XT LED perfect for the house of worship market.
With homogenized optics, long and powerful throws, a full spectrum of rich color and smooth transitions and fades, Inspire XT allows for unlimited options in lighting choreography.
"Public spaces within a venue are turning more and more into dynamic canvas. The Chroma-Q Inspire range facilitates this transition by bringing colored ambiance that can adapt to any situation and return back to a beautiful white light for a normal situation" commented Paul Pelletier, Brand Manager for Chroma-Q.
Powerful
The Chroma-Q Inspire XT LED house light is the most powerful fixture in the range, delivering up to 9,500 lumens. Including all the features of the Inspire™ & Inspire Mini™ with twice the output, it is ideal for situations that require the same high quality white and colored lighting with even more output.
The Inspire XT uses Chroma-Q's advanced homogenized optics, allowing for a single output beam that is clean, pure and uniform. Factory calibration ensures every Inspire's output is color matched.
The Inspire XT's range of beautiful whites, soft pastels and bold saturates provides for maximum creativity. Its ability to transform the look and feel of a space and engage an audience while subtly or boldly shaping an environment makes Inspire XT perfect for houses of worship.
The XT is nearly twice as bright as the popular Inspire and uses DMX, allowing the fixture to dim smoothly through the range, particularly at low levels. Aside from being energy efficient, the Inspire XT is a low maintenance fixture delivering many years of life expectancy. Camera Friendly technology eliminates camera flicker on even the most demanding HD camera.
Other key benefits that the Inspire XT brings to the house of worship market include:
• Quiet convection cooling, no fans
• Theatrical grade dimming which can be controlled from FOH
• Built-in power supply
• Extremely smooth and uniform wash
Chroma-Q – Leading Innovators in LED Lighting Technology
Chroma-Q's award-winning lighting products have been setting new standards of performance for a wide range of leading lighting designers, specifiers and technicians in the house of worship market.
For more information, visit www.chroma-q.com
We're now social. Follow us on Facebook – www.facebook.com/chromaq.lighting – for the latest Chroma-Q breaking news, user application stories, competitions & other fun stuff.
Chroma-Q and all associated product names are recognised trademarks, for more information visit www.chroma-q.com/trademarks. The rights and ownership of all trademarks are recognised. Whilst every effort has been made to ensure that the information is correct, Chroma-Q accepts no liability for errors or omissions. Technical specifications and data are provided for guidance only. Because we constantly aim to improve our products, we reserve the right to amend or alter at any time and without prior notice, the specifications of any product. E&OE.
Recent News
News Search