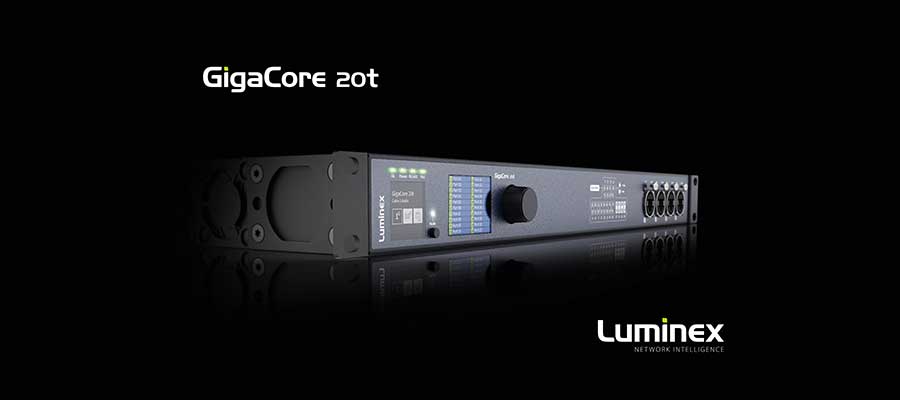 [Genk, Belgium, 5 June 2023] – Luminex, the leading manufacturer of professional AV networking solutions, will launch no less than five new models at InfoComm 2023. This includes two new GigaCore switches designed for installation and integration: the GigaCore 10i and GigaCore 16i.
Luminex will also be presenting and demonstrating three new touring-grade professional AV switches joining its range of easy-to-operate ethernet switches, namely the GigaCore 20t and GigaCore 18t – both 10 Gb switches – and a 1 Gb version as well – the GigaCore 16t – in booth #5473.
"These new models are specifically designed for professional AV installation and integration applications found in theatres, studios, OB vans, board rooms, etc., and come with all the features for which the GigaCore family is well known in the Professional AV market. Together with the well-accepted GigaCore 30i – our first 10 Gb switch that we launched successfully last year – and the three new touring grade models with ruggedized connectivity presented here at Infocomm, they further complete the GigaCore family, a range of pro AV ethernet switches that make converged networking easy for all AV integrations," says Bart Swinnen, founder and CEO of Luminex.
GigaCore 10i and 16i at a glance
GigaCore 10i and 16i, both half-19" wide with additional flexibility in the form of 100 x 100 mm vesa-spaced mount points, are an excellent choice for fixed installation and integration applications with specific requirements for port count, available space, mounting, or redundancy. The units can be combined into one rack space to provide a high port count or redundant setup. With port speeds of up to 10 Gigabits and PoE++ options, the newly added models are made to meet the most stringent demands in these applications.
GigaCore 20t, 18t, and 16t at a glance
GigaCore 20t, 18t, and 16t are built for touring professionals, in the event production and entertainment industry who require reliable and robust networking equipment with port speeds of up to 10 Gigabits and PoE++ options. These switches are made to meet the demands of touring, featuring a ruggedized construction and connectivity built to withstand the rigors of transport, set-up, and teardown.
All Luminex GigaCore ethernet switches are dedicated to converged networking out of the box. Thanks to the 10 Gb connectivity options, the GigaCore range allows full network convergence of audio, lighting, intercom, (compressed) video, and more. Pre-configured Quality of Service (QoS), IGMP multicast, and PTPv2 settings will ensure a responsive and extremely stable network environment for the most demanding time-critical audio protocols like Dante™, AES67, Q-SYS, and many others. Furthermore, AVB/MILAN is supported out of the box on the management group (VLAN) and can operate simultaneously with the aforementioned PTPv2 applications in a converged network on multiple groups (VLANS). And it's all possible without needing IT knowledge or making compromises.
Visit www.luminex.be for more information on the new models.
InfoComm details
Date: 14-16 June 2023
Location: Orlando, Florida
Luminex Booth: #5473 (in cooperation with A.C. ProMedia) Register for a FREE exhibit hall pass with our VIP CODE: ACL110
A.C. ProMedia and A.C. Lighting Inc. are the North American distributors for Luminex products.
---
About Luminex Network Intelligence
Luminex Network Intelligence is a Belgian manufacturer of data distribution equipment for professional lighting, audio, and video applications, focusing mainly on the entertainment industry. Luminex offers a complete range of network switches that are validated for interoperability in many ecosystems, providing AV designers and technicians with cutting-edge technology to build a complete data distribution system from small setups to big events or large venues. Our commitment is to make it as easy as possible to deploy a professional AV network, even without any IT knowledge. Luminex products are completely preconfigured to transport all commonly used lighting and audio protocols, such as Art-Net™, MA-Net, sACN, AVB/Milan™, Dante™, AES67, PTPv2, and many more.
Don't forget to follow A.C. Lighting Inc. on Social Media:
About A.C. Lighting, Inc.
A.C. Lighting, Inc. is a value-added distributor of world-class lighting and associated rigging technologies for the theater, film, television, worship, exhibition, and commercial markets. A.C. Lighting Inc. is a North American distributor for premier brands including Chroma-Q® LED lighting, Vista by Chroma-Q lighting and media control surfaces, PROLIGHTS high value and high-performance range of lighting, video, and effects products, Luminex Networking Intelligence manufacturer of data distribution equipment, Manfrotto and Avenger: Professional Lighting Stands and Accessories, Follow-Me Remote Follow Spot Control Systems, LumenRadio wireless lighting controls, Jands StageCL and Prolyte staging and trussing.
For more information, please visit www.aclighting.com or call 416.255.9494
Recent News
News Search