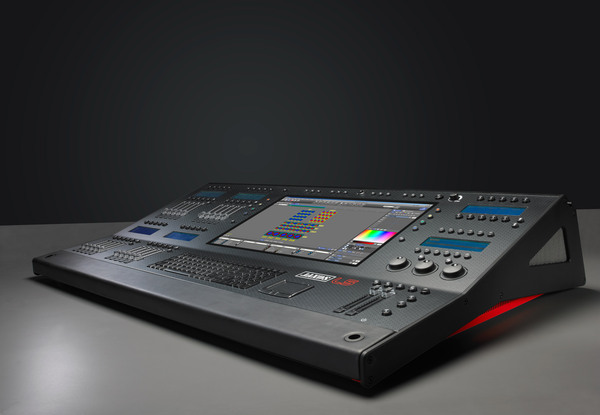 Jands announce the launch of their new flagship media and lighting control console – the Vista L5.
As the latest addition to the revolutionary Jands Vista range, the L5 console has been designed by listening to the creative people who deliver some of the most stunning shows worldwide, every day.
The Vista L5's stunning 21-inch High Definition Wacom pen tablet makes it easy to manage today's lighting rigs, which often include a large number of moving lights, media servers and LEDs. The L5 display lets you see the entire rig on one screen and provides instant access to presets, palettes, effects and more. Its crisp, detailed image shows a huge amount of information in a flexible, clear and easy-to-understand way.
As well as its massive screen, the L5 gives you the tools you need to control any design simply, powerfully and visually – regardless of the technology. The L5 has 16 universes of DMX processed onboard and a backlit keyboard for working in dark environments. The 25 physical playbacks each have their own LCD legend and you can split them to create an impressive 70 playbacks per page.
Inside, the Vista L5 has the power to cope easily with even the most demanding shows long into the future, with the Linux OS driving an Intel Core i7 processor with 8GB of Dynamic RAM. All this power is contained in a rugged monocoque design that is lightweight yet impressively strong and sleek. Embodying many hours of work with media and lighting professionals, the L5 is the perfect balance of form and function.
Paul Mulholland, CEO of Jands said "By combining the second-generation Vista software with superb design, the Vista L5 proves that powerful media and lighting control doesn't have to be complicated – the L5 is quite simply a physical extension of the way you think."
The Vista L5, the ultimate platform for the creative mind. Available now.
Celebrate the launch of the Vista L5 by entering a competition to win a MacBook Pro* running the Vista v2 software. To enter and find out more about the Vista L5, visit www.jandsvista.com/L5.
*Terms and conditions apply. Full details on www.jandsvista.com/L5
*This competition is sponsored by Jands' European and US distributors and is only open to residents of those areas.
The rights and ownership of all trademarks are recognised. The information contained herein is correct at the time of printing, however as we are constantly refining our product range we reserve the right to change the specification without notice. E&OE.
Recent News
News Search