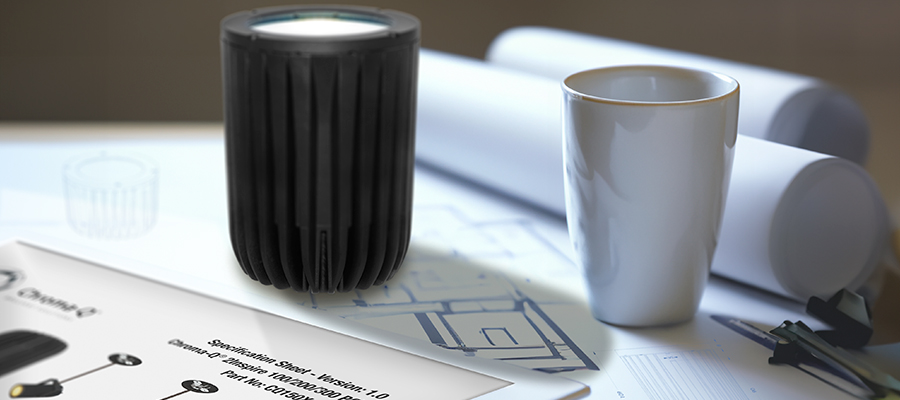 Introducing 2inspire™ by Chroma-Q
2inspire™: Three Sizes, No Compromises
Chroma-Q®, a world-renowned brand of premium performance LED lighting solutions manufactured in North America, is pleased to introduce their all-new 2inspireTM family.
The 2inspireTM family delivers truly flexible lighting into any space quickly and efficiently. It is a compact, silent, bright fixture available in three sizes, with each installation luminaire producing both studio-grade tuneable white light and pure theatrical quality colours.
The 2inspireTM family comprises three distinct models: the 2inspireTM 100, 200, and 300, boasting illumination outputs of 500 lumens, 1300 lumens, and 3000 lumens, respectively.
Each 2inspireTM requires a single ethernet cable for power and data, harnessing the most recent advancements in Power-over-Ethernet (PoE) technology. This Streamlines installation, minimizing deployment costs and maximizing efficiency.
The new Chroma-Q Gen3 LED engine - designed, built, and calibrated in North America – comes from over 20 years of experience at the very cutting edge of LED technology.
It delivers 2,400K to 6,500K broadcast grade whites and pure theatrical colours using RGB, WW, and CW LEDs.
Fully convection-cooled, the 2inspireTM provides noiseless operation in even the most acoustically sensitive settings.
The ultra-high-speed LED driver system – up to 192kHz - ensures flicker-free performance, catering to the human eye and high-speed cameras alike.
A holistically designed accessory collection easily mounts each fixture - on a wall, as a pendant, in a ceiling, or from a yoke. With one source type, three sizes, four diffusion options, and over twenty accessories, hundreds of different physical configurations can be quickly and easily adjusted on-site.
2inspireTM will make its North American debut during LDI from December 3-5, 2023, in Las Vegas. Visit A.C. Lighting Inc. in booth 319 for your personal demonstration of this innovative product. Register for free using VIP Code 10030. Register for free
Chroma-Q products are available in North America through A.C. Lighting Inc. For more information, visit https://www.aclighting.com/chroma-q/.
---
Chroma-Q and all associated product names are recognised trademarks, for more information visit www.chroma-q.com/trademarks. The rights and ownership of all trademarks are recognised. Whilst every effort has been made to ensure that the information is correct, Chroma-Q accepts no liability for errors or omissions. Technical specifications and data are provided for guidance only. Because we constantly aim to improve our products, we reserve the right to amend or alter at any time and without prior notice, the specifications of any product. E&OE.
---
Editor's note:
Chroma-Q® have been designing lighting equipment for over 25 years, with a reputation for high product quality, innovation and reliability.
Today, LED based lighting products are the core of Chroma-Q's portfolio.
Chroma-Q have gained a reputation for introducing award-winning, premium LED lighting solutions which deliver the highest performance levels required by today's most demanding applications - including concerts & theatre shows, film & TV broadcasts, retail, leisure & museum installations, exhibitions & corporate hospitality events.
---
Don't forget to follow A.C. Lighting Inc. on Social Media:
About A.C. Lighting, Inc.
A.C. Lighting, Inc. is a value-added distributor of world-class lighting and associated rigging technologies for the theater, film, television, worship, exhibition, and commercial markets. A.C. Lighting Inc. is a North American distributor for premier brands including Chroma-Q® LED lighting, Vista by Chroma-Q lighting and media control surfaces, PROLIGHTS high value and high-performance range of lighting, video, and effects products, Luminex Networking Intelligence manufacturer of data distribution equipment, Manfrotto and Avenger: Professional Lighting Stands and Accessories, Follow-Me Remote Follow Spot Control Systems, LumenRadio wireless lighting controls, Jands StageCL and Prolyte staging and trussing.
For more information, please visit www.aclighting.com or call 416.255.9494
Recent News
News Search