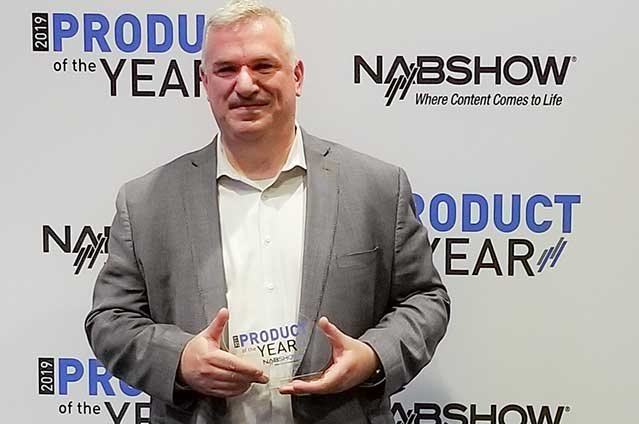 Worldwide, April 11, 2019 – Making its debut at the NAB Show, the new Chroma-Q® Space Force onebytwo™ variable white LED soft light panel won a Lighting Product of the Year Award in the show's inaugural awards event, held in Las Vegas on April 10th.
The cost-effective, bright, high quality unit is a modern replacement for traditional soft sources used in TV studio, live broadcast, vlog, film & photographic applications.
Featuring Chroma-Q's 15 years of LED innovation and its award-winning Space Force™ LED space / soft light's technologies, the onebytwo is the ideal fit for standard room ceiling height studios and small spaces.
"It is an honor to accept this prestigious award on behalf of the Chroma-Q team." explains Paul Pelletier, Global Brand Manager. "The response for this product has been overwhelming on the show floor and through our distributors. We developed the onebytwo to provide our customers with a more compact variant our popular Space Force model, enabling them to utilise our innovative soft lighting technology in any size studio."
The 1×2 ratio and compact dimensions enable panels to be mounted side-by-side in either ratio, overhead or on a wall, to create a huge volume of light in a small space.
Highly efficient and natively single-source, the onebytwo is CCT variable between 2,800K and 6,000K, and has an output of up to 13,900 lumens. The extremely high quality, diffused light is matched by a superbly smooth dimming intensity gradation.
Convection cooling provides quiet operation for studios and a cooler working environment – reducing air conditioning needs to further boost energy savings.
Manual & remotely controllable LED frequency up to 96,000Hz ensures flicker-free operation, along with wired or optional LumenRadio CRMX, RDM functionality.
The lightweight design (only 8.25kg / 18lbs) incorporates all power & control electronics, making it quick and easy to set up. Built to last, it requires minimal maintenance and retains colour consistency between units owing to Chroma-Q's LED emitter inspection and proprietary ColorSure™ LED calibration system.
Optional accessories include a low-profile hanging offset bracket, 4-way bridle, and a full range of beam control accessories.
Visit www.chroma-q.com for more information and to find your nearest Chroma-Q dealer. Alternatively, the Space Force onebytwo will be on display in Stage 5, Booth S315 at Cine Gear at The Studios at Paramount, Hollywood, CA from May 31 to June 1st, 2019.
Follow us on: www.facebook.com/chromaq.lighting.
Recent News
News Search