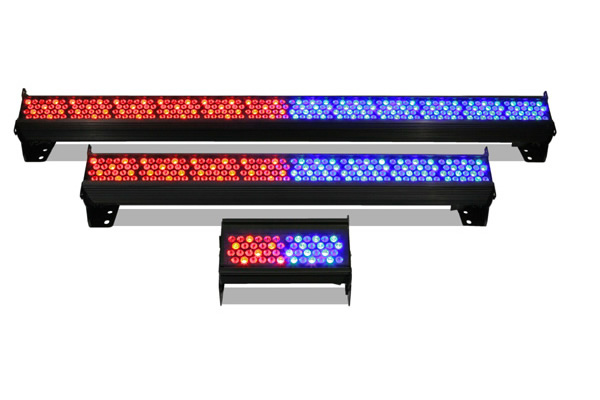 The Chroma-Q® stand at PLASA 2010 will feature the launch of new mighty output coloured / White LED and battery powered LED lighting fixtures designed to meet today's most demanding entertainment and architectural lighting applications (Stand 1-E11).
The new Chroma-Q Color Force™ line-up includes super bright RGBA battens that easily wash up to 8m high. Launching at PLASA and expanding the range is the Color Force 12, a compact 30cm wide, 2,000 lumens version that provides the ideal multi-purpose LED fixture for floor, wall or truss mounting. Other range features include a huge RGBA full colour palette capable of deep cold blues and red hot lava looks in a single fixture, CRI of 92, independently controlled cells, theatrical grade dimming and an extremely smooth, uniform wash.
Utilising the same advanced technologies, the new Daylight Force™ battens provide 5600K CCT White LED versions with a staggering 48,000 (1.8m) / 32,000 (1.2m) lumens output for washing large areas. In addition, the new Daylight Punch™ 5600K CCT White LED fixture provides 3,500 lumens for bright washlight results in a compact design.
The new Chroma-Q Color Charge™ is a 600 lumen, battery powered, RGBA, wireless DMX fixture which is ideal for any indoor temporary lighting application where wiring is a challenge or where install speed is critical, enabling users to transform a venue in minutes. It also features a highly efficient nickel-metal hydride (NiMH) power cell for up to 30 hours usage and up to 1,000 charges; approximately double the life of lead-acid batteries.
Other products on show include the Magic Box™ 19" rack mount range of EtherSwitch 7 / 7F™
seven gigabit touring grade network switches and other data distribution products, playback devices, colour changers, gobo rotators and associated lighting accessories.
Glyn O'Donoghue, product development director of Chroma-Q UK distributor, A.C. Entertainment Technologies, commented: "Following huge interest in new Chroma-Q LED fixtures shown last year as well as major product launches this year, we are expecting a record number of visitors to check out the range. PLASA is an ideal showcase for Chroma-Q due to the truly multi-purpose nature of the LED range."
For more information on the Chroma-Q LED range, please visit www.chroma-q.com.
All Chroma-Q LED products are licenced by Color Kinetics. Chroma-Q and all associated product names are recognised trademarks, for more information visit www.chroma-q.com/trademarks. The rights and ownership of all trademarks are recognised. The information contained herein is correct at the time of printing, however as we are constantly refining our product range we reserve the right to change the specification without notice. E&OE.
Recent News
News Search