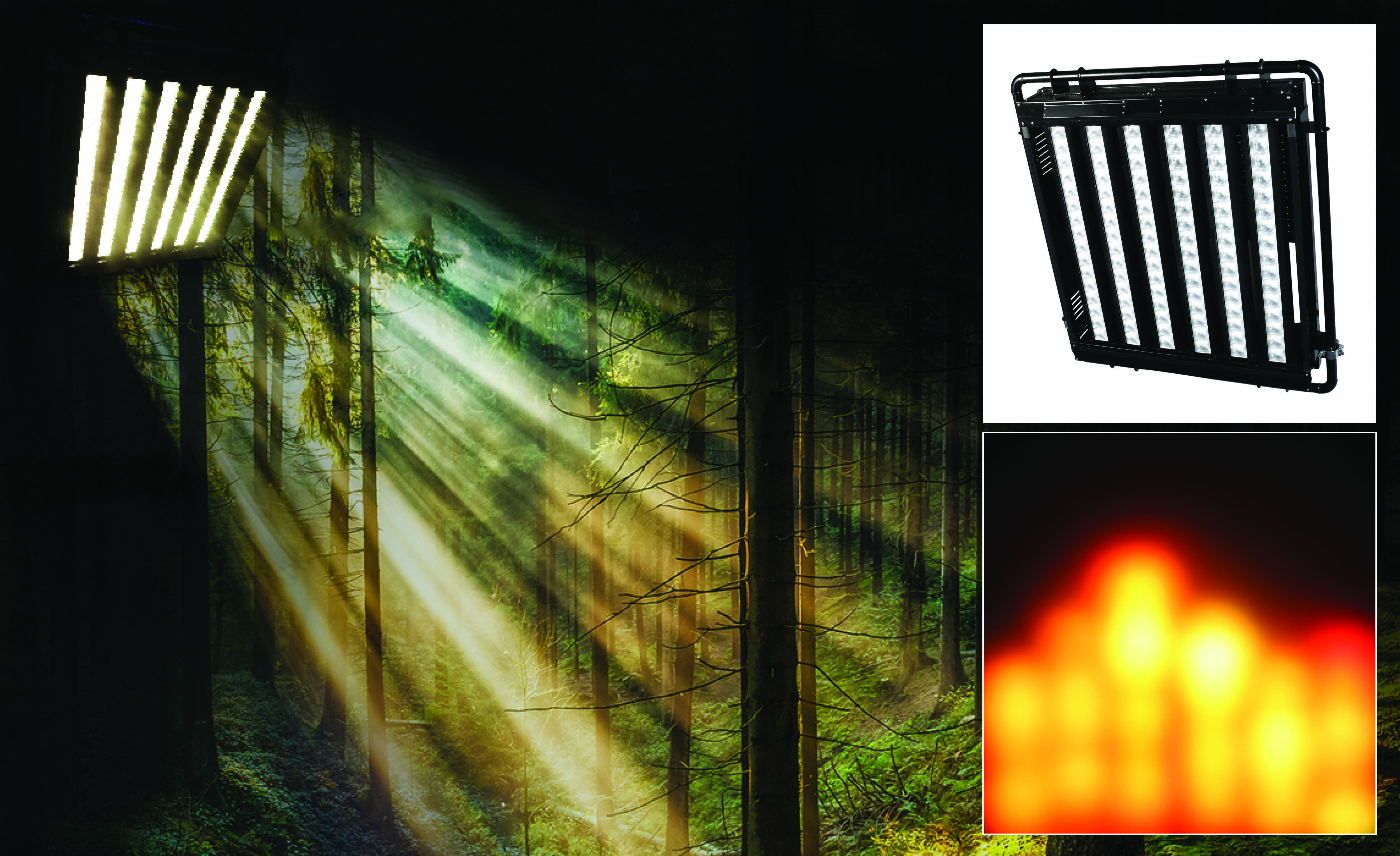 MBSi, the Pinewood MBS Lighting innovations think-tank, is proud to have collaborated with Chroma-Q® in the development of the Brute Force™ – a brand new LED alternative to a quarter Wendy light.
Extending the Chroma-Q range of highly effective, energy efficient products, this new fixture has been rigorously tested by PMBS in a variety of 'real world' scenarios to ensure optimal functionality across a variety of applications.
The technical teams at both companies worked closely together to create a true LED full colour RGB-W lamphead that draws just 15 amps @ 240V. Robustly designed and fully dimmable, the Brute Force has an extended CCT range between 2,000K and 10,000K. Each unit features 96-way mappable pixel control with RDM, DMX and optional wireless operation. For greater flexibility, the on-board multi-point fixings allows units to be easily combined to form a full Wendy.
Although developed in partnership with MBSi, unlike other proprietary products, the Brute Force is to be made available industry wide through Chroma-Q. PMBS have invested their technical expertise, however the key objective is to see this new lamphead being adopted throughout the industry.
Speaking about the product, Chroma-Q's Global Brand Manager, Paul Pelletier said "in creating the Brute Force our teams have introduced an incredible new alternative to the traditional Wendy. Having MBSi involved in the project has allowed us to design and build a fixture that has been properly tested and proven to perform prior to launch. I am confident that it will be instantly accepted throughout our industry as a versatile, effective light source".
As a company recognized by the BAFTA led albert initiative as a supplier that supports an environmentally sustainable future for the industry, Pinewood MBS Lighting are keen to share their knowledge to help Production achieve their true potential in this area. The introduction of the Brute Force is just one such example of an ongoing commitment to making energy efficient alternatives more widely available.
Talking about MBSi, PMBS Technical Director Steve Howard commented "MBSi provides us with a central point from where to share creativity, to innovate and introduce new thinking that can enhance the way we support our clients. Through our collaboration with Chroma-Q we are proud to have taken this ethos a step further and are committed to sharing our knowledge in a way that can benefit the industry as a whole. In a creative industry we have to offer more than just power saving in the products we are looking to replace. We are delighted with the ability of the Brute Force to combine its comparable output and spread to a quarter Wendy with the benefits of intelligent, controllable, full colour LED illumination".
The Brute Force will make its North American debut at Cine Gear Expo. Visit Chroma-Q in the A.C. Lighting Inc. both S108, for your demonstration. Alternatively, go to www.chroma-q.com for more information and to find your nearest Chroma-Q dealer.
---
Chroma-Q and all associated product names are recognised trademarks, for more information visit www.chroma-q.com/trademarks. The rights and ownership of all trademarks are recognised. Whilst every effort has been made to ensure that the information is correct, Chroma-Q accepts no liability for errors or omissions. Technical specifications and data are provided for guidance only. Because we constantly aim to improve our products, we reserve the right to amend or alter at any time and without prior notice, the specifications of any product. E&OE.
About Chroma-Q
Chroma-Q® has been designing lighting equipment since the mid 1990s, when they established a reputation for high product quality, innovation and reliability with hugely successful products such as the Original colour changer.
In 2004 Chroma-Q launched their first LED fixture, the Color Block DB4™ – a product so popular that it's still selling today in a newer incarnation with upgraded technologies.
Since then, Chroma-Q have a gained a reputation for introducing award-winning, premium LED lighting solutions which deliver the highest performance levels required by today's most demanding applications – including concerts & theatre shows, film & TV broadcasts, retail, leisure & museum installations, exhibitions & corporate hospitality events.
Chroma-Q have an equally impressive track record developing a range of lighting colour changers, effects, gobo rotators, and various control & data distribution products.
Recent News
News Search