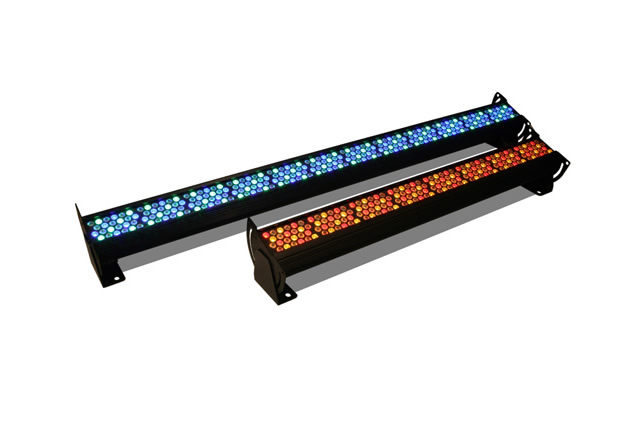 The new Chroma-Q® Color Force™ 72 (6ft / 1.8m) and 48 (4ft / 1.2m) LED batten range features a mighty 12,000 / 8,000 lumens light output – providing an extremely powerful fixture for lighting a cyclorama of up to 26ft / 8m drop. Combined with an enhanced RGBA colour spectrum, a CRI of 92, theatrical grade dimming and all the benefits of LED technology, the Color Force is the ideal multi-purpose colour-changing fixture.
Manufactured in North America and part of the new generation of Chroma-Q LED lighting models, the Color Force features a number of unique colour mixing and control management technologies.
The Chroma-Q RGBA engine has been developed to deliver an incredible CRI of 92, for true colour balance across the spectrum and accurate tungsten white light emulation. Each 1000 lumen engine utilises unique ColorSure™ technology for enhanced colour consistency across cells and fixtures.
The Color Force offers massive output across the spectrum, delivering both vivid saturates and subtle palette colours. This makes it the ideal single fixture solution for indoor entertainment and architectural lighting applications including theatre, concert touring, corporate events, exhibitions and TV.
The unit's custom optical design provides a smooth, uniform output with outstanding colour blend. For optimum performance, optional accessories include a Cyc lens plate for lighting up to a 16ft / 5m drop and a Border lens plate for general-purpose wash applications.
The Color Force features smooth, theatrical grade dimming and intuitive colour control for all lighting console types. Combined with LED lighting's instant strobe-like control of intensity, the unit offers exceptional all-round flexibility.
Advanced software enables industry standard 3 channel RGB and HSI control for each ColorSure light engine. A unique *Magic Amber mode automatically and seamlessly blends the amber alongside the RGB LEDs for a better range of warmer colours and an enhanced colour gamut. A full range of flicker-free modes is also included.
With separate control every 6" / 150mm and a comprehensive built-in effects engine, the Color Force offers new possibilities in cyclorama effects.
The Color Force fixture's low maintenance requirements as an LED fixture, combined with its highly efficient LED power management technology, offer significant long-term savings in running costs compared to a traditional 1kW cyclorama flood.
On the outside, the Color Force has been designed to provide maximum versatility and ease of use. The built-in power supply, hidden quick release fixings requiring no tools, and mains power / DMX in at the one and out the other provide fast deployment and simple cable management.
The Color Force also features standalone Master and Slave modes for additional usage possibilities, flat end plates for seamless wall-washing and a rugged extruded aluminium body.
The Color Force will be on display at Prolight & Sound (Hall 11.1, Stand A47), PALME Middle East (Hall 4, Stand 4C50) and USITT (Booth 580). For more information on the Chroma-Q LED range, please visit www.chroma-q.com.
*Magic Amber is the term used for the unit's ability to bring in amber when mixing colours that require it.
All Chroma-Q LED products are licenced by Color Kinetics. Chroma-Q and all associated product names are recognised trademarks, for more information visit www.chroma-q.com/trademarks. The rights and ownership of all trademarks are recognised. The information contained herein is correct at the time of printing, however as we are constantly refining our product range we reserve the right to change the specification without notice. E&OE.
Recent News
News Search