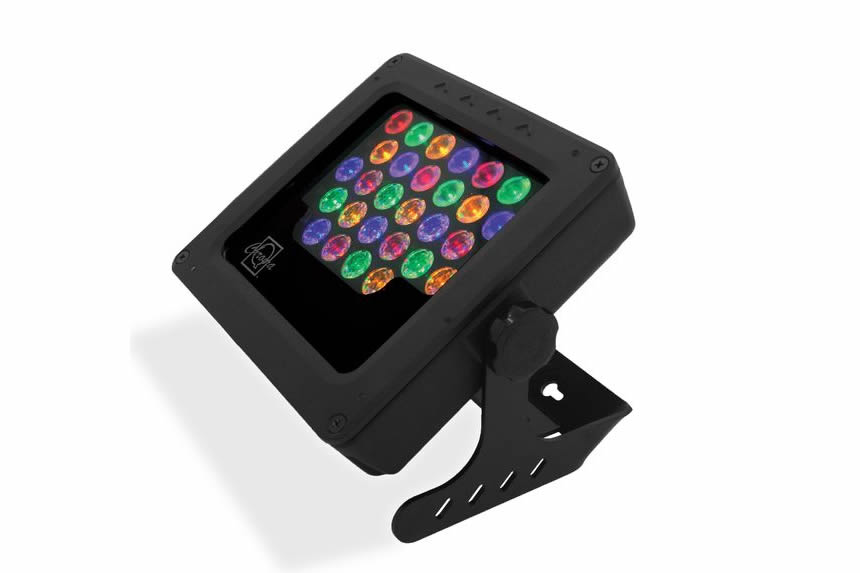 The new Chroma-Q® Color Force Compact™ is a powerful creative lighting tool that works in perfect harmony with the popular Color Force™ range. The Compact is a cost-effective workhorse, ideal for a wide range of applications. Utilising core LED technology from the Color Force range, the fixture provides 1700 lumens in a cost-effective, slim, compact profile while maintaining color compatibility with the rest of the range.
Despite measuring only 235mm / 9.25" in length, the Color Force Compact produces a powerful 1700 lumens output – making it ideal for lighting areas with a very small footprint.
With its rugged external design, the Color Force Compact has been designed as a multi-purpose workhorse fixture suitable for numerous entertainment lighting applications – including uplighting, pipe-end shin-busting, backlighting, truss toner and other wash applications.
Up to five fixtures can be daisy-chained from each 15-way Compact PSU output, eliminating the need to home-run a cable from each fixture back to the PSU. In addition, up to four fixtures per output can be daisy-chained on a Chroma-Q Color Block PSU (PSU-05B, PSU530).
The Color Force Compact enables an even wider range of users and budgets to utilise the power of the Color Force as a creative lighting tool.
The Color Force Compact uses its huge RGBA color mixing palette to deliver a full range of high brightness colours across the spectrum. Deep cold blues, red hot lava looks and super soft pastels are all available from a single fixture.
The Chroma-Q RGBA engine has been developed to deliver an incredible CRI of 92, for true color balance across the spectrum. Each Color Force Compact includes Color Sure™ technology for enhanced color consistency across fixtures.
The Color Force Compact fixture's custom optical design provides a smooth, uniform output with outstanding color blend across the spectrum.
Separate discreet RGBA LEDs are used for increased efficiencies and the custom Chroma-Q optical design delivers surprisingly clean shadows for most common real world applications.
Theatrical grade dimming, a high CRI of 92 for extremely accurate color rendition and a clean white ensures the light output feels just right.
For real versatility and compatibility with existing lighting inventories, the Color Force Compact is compatible with City Theatrical top hat, half top hat, egg crate louver and barn door accessories.
The fixture is supplied with a holder for these four optional accessories, as well as interchangeable clear and frosted glass light lenses.
An optional W-DMX wireless accessory for the 15-way PSU is also available.
Complementing other models in the range, the Color Force line-up now provides a full choice of creative tools for almost any entertainment application.
Compatibility with industry standard control consoles is assured. HSI, FxHSI, RGB (*Magic Amber), RGBA, RGBI (Magic Amber), Look Select, Master and Slave Standalone control modes.
For more information, please visit www.chroma-q.com or email sales@chroma-q.com
Chroma-Q and all associated product names are recognised trademarks, for more information visit www.chroma-q.com/trademarks. The rights and ownership of all trademarks are recognised.
The information contained herein is correct at the time of printing, however as we are constantly refining our product range we reserve the right to change the specification without notice. E&OE.
Recent News
News Search