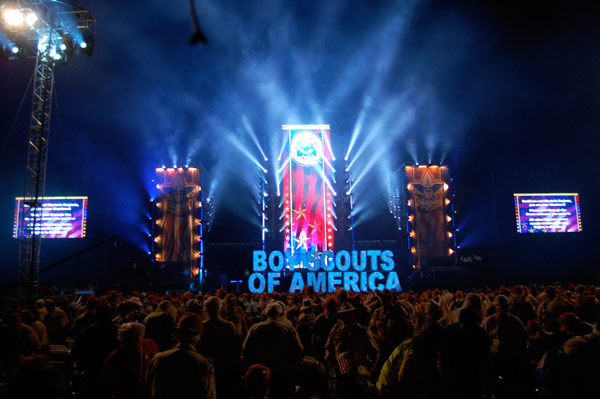 After using the recently released Vista v2 software on their existing Vista T2 consoles, Dallas, Texas based Alford Media have just committed to increasing their inventory after the next generation of software delivered the leap forward it promised.
Alford Media Services Inc. is an AV and lighting company, known for its high end video capabilities as well as imaginative integrated visual designs and solutions. They work on a wide variety of live events for a diverse range of premium clients with exacting standards.
One of two full time lighting designer/directors, Kurt Wunsch has been with the company for 10 years. He was an early adopter of the Jands Vista control platform, and has been an enthusiastic user since. Their first T2 console was bought soon after Vista was launched, and along with the others they have bought since, is still going strong even after constant use. Last year one of his highlights was lighting the Boy Scouts of America's 100th Anniversary National Scout Jamboree show – 16 universes of DMX controlled from a single Vista T2.
Kurt and his colleagues took the decision that now was the right time to update their consoles to the next generation Vista v2 software, and get access to all the additional functionality that it offers. Vista v2 was designed from the ground up to allow all levels of user to get the most from whatever mix of technology they have available, whether dimmers, moving lights, LED, or media. Available in a wide range of hardware Vista v2 offers both the simplicity to work fast, with the power to control the finest details, so everyone can focus on creating a great looking show rather than on programming a desk.
Kurt is very impressed with Vista v2, particularly the way it interfaces seamlessly with media servers. As Alford Media is a video orientated company, this is proving extremely useful to get the most from their recent investment in several Green Hippo Hippotizer products.
Kurt likes many features of the Vista v2 operating system, specifically the user-friendly programming environment, and they way it allows you to "work in a logical, straightforward and creative manner" to build your show. He says "you can really focus on the design, and think in terms of colors and effects rather than number-crunching and percentages. It's fast, interactive and simple to use" he comments, adding that it also suits the theatrical/rock 'n' roll style of his programming which was shaped during his early career.
Kurt believes Vista v2 is now "faster than any other console – the interface makes it so easy to grab fixtures and apply parameters". This allows him and his team to deliver the high standards that his clients demand within the tight timeframes they set.
On a recent Quake Con event in Dallas, Kurt was using Chroma-QTM Color BlockTM LED fixtures to highlight the trusses, which he was easily able to "pixel map" using the matrix facility in Vista v2. He says that it worked "Brilliantly", saving literally hours of programming time, and quickly giving the client exactly what they were looking for.
Upcoming shows on which Kurt himself is using one of the company's T2's include an event for a large pharmaceutical company in Maryland, for which he has designed a large rock 'n roll style rig for the live stage that will feature sets by Motown greats The Four Tops and The Temptations, as well as major expo's for a natural drink company in Salt Lake City, and an energy company.
With Vista v2 now installed and proved completely reliable on all their desks, he's starting to train some of Alford Media's other operators. Apart from really appreciating it, they "are all picking it up incredibly fast". He recalls a recent trade show in Dallas. He unexpectedly had to go and deal with something elsewhere in the building, so to ensure no valuable programming time was lost, gave freelance LD Teresa Porterfield – who had never seen a Vista T2 before – a quick basic training course! "It was amazing! She 'got it' so quickly, so well and enjoyed the process so much that she ended up programming and running the whole show!"
VP of marketing and sales at exclusive NA distributor, AC Lighting Inc, Fred Mikeska said "As more people around the world try Vista v2 they see the power and simplicity that it offers to all disciplines – including concert, corporate, worship, and education. Kurt and Alford Media have embraced Vista v2, and discovered how much extra it gives them to deliver even more to their clients. Vista v2 is a true next generation software that lets all users get the most value from whatever mix of technologies they have available."
Find out more about the Vista v2 at www.jandsvista.com
The rights and ownership of all trademarks are recognised. The information contained herein is correct at the time of printing, however as we are constantly refining our product range we reserve the right to change the specification without notice. E&OE.
Recent News
News Search