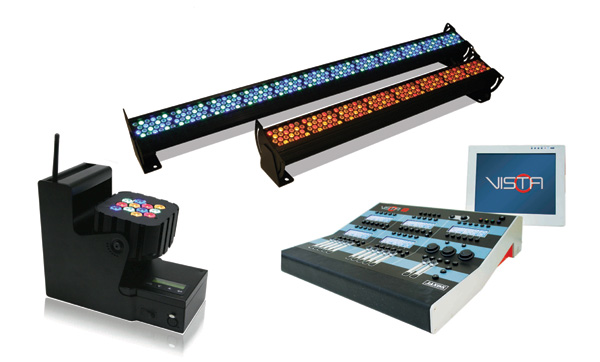 The A.C. Lighting Inc. booth at USITT 2010 will feature pioneering new LED lighting and control systems from Chroma-Q® and Jands. The Artistic Licence Art-Net range, which is also distributed exclusively by the company in North America, will be featured on the booth (580).
Now shipping is the new Chroma-Q Color Force™ 72 / 48 range of 6ft, 12,000 lumens output and 4ft 8,000 lumens output LED battens. With super bright light output, the range provides an extremely smooth, uniform coverage for washing areas up to 26ft high and is ideal for lighting cycloramas or as a border light.
Also previewing is the new Chroma-Q Color Charge™, a 600 lumens, rechargeable battery powered, ultra portable LED light source which combines wireless control with an environmentally friendly NiMH battery and interchangeable head design.
The new generation of Chroma-Q LED models, which includes the Color Block 2™ multi-purpose fixture, feature advanced RGBA color mixing and control management technologies. Together these provide a radically increased color palette, a high CRI of at least 90 and theatrical grade dimming, all in the same fixture. For more information visit www.chroma-q.com
Jands will be previewing a major upgrade of the Vista control system. Free to existing users, this completely re-written application builds on the innovative visual approach pioneered by Jands and takes it to a whole new level, introducing a true second generation of software. Faster and even easier to use, it is a lot more than just an upgrade of the existing Vista software. It provides an unrestricted, feature rich, reliable software platform for building an ever more sophisticated and powerful console in the years to come. For more information visit www.jandsvista.com
In addition to aforementioned products exclusively distributed in North America by A.C. Lighting Inc., the company carries a vast stockholding of the latest stage, studio and event lighting products, accessories and consumables. This choice of on-the-shelf products is coupled with competitive prices and the highest level of service and support.
All Chroma-Q LED products are licenced by Color Kinetics. Chroma-Q and all associated product names are recognised trademarks, for more information visit www.chroma-q.com/trademarks. The rights and ownership of all trademarks are recognised. The information contained herein is correct at the time of printing, however as we are constantly refining our product range we reserve the right to change the specification without notice. E&OE.

Recent News
News Search