| | | |
| --- | --- | --- |
| | Leading Lights Newsletter - Issue 13 | |
Welcome to Issue 13 of Leading Lights
from A.C. Lighting Inc.
Back to School

School is back in session and lighting professionals everywhere are sharpening their programming chops, as well as honing their video skills, to stay at the top of their game in our hyper-tech industry. Now is the time to sign up for the excellent Jands Vista and ArKaos product training sessions at this year's LDI Show in November.
A.C. Lighting Inc., in conjunction with the LDInstitute, are proud to bring the best instructors from Jands and ArKaos to LDI for training. Last year's Jands Vista LDI training session sold out in advance of the show. Take advantage of the Early Bird Discounts and save big.
For the first time ever, the LDInstitute is offering ArKaos Media Server training sessions. Read the Video Road Test from PLSN later on in this newsletter and see why ArKaos Media Master is capturing the imagination of the lighting and video community. With special LDInstitute pricing in place, now is the time to learn ArKaos Media Master.
Study up and bring your teacher a bright and shiny apple. Better yet, bring your teacher a MacBook Pro as the Jands Vista and ArKaos platforms are PC and Mac compatible.
Read on for more information about these and other ground-breaking products we'll be exclusively showcasing on our booth at LDI, WFX and other shows this year - we hope to see you there.
| | | |
| --- | --- | --- |
| | LDInstitute: Jands Vista Lighting & Media Console Training | |
| | |
| --- | --- |
| | No matter if you are new to the exciting Jands Vista lighting and media control range, or are an existing user, the latest Vista v2 software will enable you to get the most from whatever mix of technology you have available, whether dimmers, moving lights, LEDs or media. |
We have set aside two full days to provide both introductory and advanced programming training sessions on the Vista v2 software in partnership with the LDInstitute.

Eddie Welsh of Jands is flying in from Australia to provide top-notch training. Early registration is recommended as space is limited, so why not sign up now:
Save $100 with an Early Bird Discount when you sign up by October 18th.

The training session will cover all aspects of the new Vista v2 software and is geared to all levels and types of user - including designers, programmers, and operators - no matter what your background or knowledge level.

For more information on the Jands Vista, check out our latest Vista v2 applications brochure or visit www.jandsvista.com
Introductory Level Vista Training
Wednesday, November 20th, 9:30am - 5:30pm
More info.

Advanced Level Vista Training
Thursday, November 21st, 9:30am - 5:30pm
More info.
| | | |
| --- | --- | --- |
| | PLSN Road Test - ArKaos Stadium Server | |
Recently making its North American debut at InfoComm, the ArKaos Stadium Server is an incredibly powerful system designed as a top of the line solution for professional lighting designers.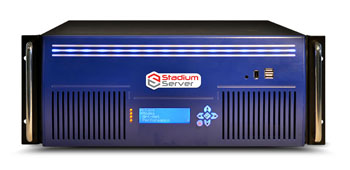 PLSN magazine's Vickie Claiborne gave the Stadium Server a
glowing review in the June issue. Vickie writes:
"The ability to map video to surfaces and 3D objects while also having the ability to edit and adjust the settings for those objects directly from within the application make this a solid media server solution for the 3D mapping market."
Click to read the full road test
| | | |
| --- | --- | --- |
| | LDInstitute: ArKaos Media Server Training | |
| | |
| --- | --- |
| | If you are a creative lighting or video professional looking to establish a solid core of media server knowledge on one of the most powerful and economical media server solutions on the market, then the LDI ArKaos training is perfect for you. |
Designed for creative lighting designers, video operators and programmers, the ArKaos class provides participants with everything required to set-up, program and run a show - including video mapping, edge blending 3D mapping and advanced geometrical correction.
A.C. Lighting Inc. has negotiated special pricing with the LDInstitute for this hands-on media server class.
LDInstitute: ArKaos Media Server Training - Details
With a class limit of 10 participants and 2 participants per work station, you are ensured focused, hands-on training direct from the ArKaos factory trainer.
Taught by Toon Servaes of ArKaos, the class will cover:
1. Hardware Overview: Stage Server 2 Hd Outputs, Stadium Server 6 Hd Outputs.

2. Software: Overview Of Mediamaster Express and Mediamaster Pro.

3. Interface: Including Traditional Simple Mode and Advanced Fixture Mode.

4. Geometrical Correction: Soft Edge, Keystone, Geometrical Correction, Basic and Advanced Soft Edge.

5. Led Mapper Interface Overview and Fixture Mapping.

6. Video Mapper: Interface Overview, Output Management Hands-On 3d Surface Mapping and Interpolation.
ArKaos Media Server Training
Thursday, November 21st
9:00am - 1:00pm
More info.

ArKaos Media Server Training


Thursday, November 21st
2:00pm - 6:00pm
More info.
| | | |
| --- | --- | --- |
| | Easy as 1, 2, 3 - Jands Stage CL Demo Video | |
The Stage CL literally is made for LEDs. We realized that there were lots of people out there using LED lights who were only getting a fraction of the power and flexibility these lights offer.

The Stage CL gives you all the manual controls and automation you need to get the most out of your LEDs and conventionals. It's so easy to use, simply click below to watch the video.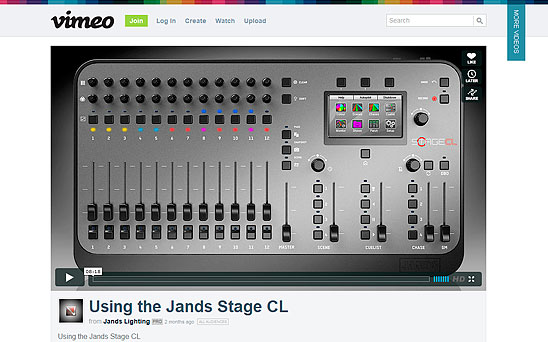 For more information please visit www.jands.com/stage-cl/
| | | |
| --- | --- | --- |
| | Visit Us at WFX Dallas Next Week | |
Please drop by our booth at the WFX tradeshow in Dallas next week (October 2nd - 3rd, booth #821).

WFX will help you clarify how to move forward with confidence on new projects and helps expand the potential of your facility and people.

On display will be a selection of the leading creative tools from our portfolio of exclusive, North American brands, including Chroma-Q® LED lighting, Jands lighting and media control, ArKaos media servers, LedGo video screens and Prolyte truss solutions.
| | | |
| --- | --- | --- |
| | Upcoming A.C. Lighting Inc. Events | |
See us at the following events:
WFX 2013 (Dallas, USA)
Oct 2nd - 3rd Booth 821

PLASA 2013
(Excel, London, England)
Oct 6th - 9th
A.C. Entertainment Technologies Ltd. (Sister Company) Booth P40/P41

LDI 2013
(Las Vegas, USA)
Nov 22nd - 24th
Booth 1833

Concert Master Class 2013
(Los Angeles, USA)
Dec 3rd - 4th
| | | |
| --- | --- | --- |
| | World Class Products, World Class Service | |
A.C. Lighting Inc.

435 Horner Avenue, Unit 1,
Toronto, ON. M8W 4W3. Canada
Tel: 416-255-9494, Fax: 416-255-3514
northamerica@aclighting.com