| | | |
| --- | --- | --- |
| | Leading Lights Newsletter - Issue 15 | |
Welcome to Issue 15 of Leading Lights from A.C. Lighting Inc.
Wow, it's been a long cold winter. Cold enough for the Polar Vortex to give a whole new meaning to cool. With spring in the air and warmer temps ahead, your friends at A.C. Lighting Inc. continue to make cool the rule, with several new cool product introductions.
Incorporating the same fully homogenized color mixing optics, the cool new Chroma-Q® Inspire Mini™ follows in the footsteps of the incredibly popular Inspire™ house light. The new, smaller Mini is ideal for under-balcony applications and venues with low ceilings.
ArKaos just introduced cool new updates to MediaMaster Pro 4.0. Release 4.0 features a sure to be popular, optional dongle along with a host of other features.
And, equally cool, Jands is getting ready to launch the Vista D1 processor, which provides an additional 16 universes of DMX or full tracking backup.
See all of these cool new products and more at the upcoming USITT and NAB shows.
| | | |
| --- | --- | --- |
| | Chroma-Q® Inspire Mini™ - Endless Possibilities...Be Inspired | |
The new Chroma-Q® Inspire Mini™ LED house light is a powerful and compact, creative lighting tool that complements the award-winning Inspire™ fixture. With a wide 65 degree beam angle and shorter housing, the Mini is ideal for venues with low ceilings or for use under balconies.
For more information, please visit chroma-q.com
Download the latest Chroma-Q LED Lighting Applications Brochure
| | | |
| --- | --- | --- |
| | ArKaos Media Master Pro 4.0 – More Power & Features, Same Simplicity | |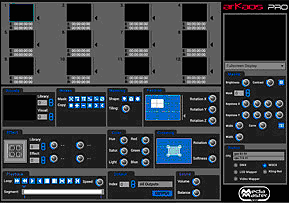 The upcoming USITT show in Fort Worth, Texas will mark the North American introduction of ArKaos MediaMaster Pro 4.0, the latest and even more powerful version of ArKaos PRO's media server software.
MediaMaster Pro 4.0 brings more flexible protection using a new online licensing system with online activation / deactivation for greater flexibility, or an optional dongle system. MediaMaster Pro 4.0 is packed with so many new additional features while retaining the simplicity of operation ArKaos users love.
MediaMaster Pro 4.0
Extended fixture profile with 70 parameters per layer
Videomapper with Grouping / Geometrical Correction / Edge Blending
Display of media time
Full cropping
Hue, saturation and lightness control
Aspect ratio
Layer based volume control
Sound balance
Start point and pause
Designed for creative lighting designers and video operators, ArKaos' innovative software provides all of the tools you need to set-up, program and run a show.
For more information, please visit www.arkaospro.com
| | | |
| --- | --- | --- |
| | Be Inspired...Seamless LED Venue Lighting from Stage to Audience | |
Jacksonville, Florida based Celebration Church - one of the nation's fastest growing churches - installed over 100 Chroma-Q® Inspire™ LED house lights to provide an 'immersive' environment during its worship services.
With attendee figures of more than 12,000 per week, the services held in Celebration Church's state-of-the-art, newly constructed worship arena feature an energetic, next generation praise and worship experience that infuses diverse genres and styles.
| | | |
| --- | --- | --- |
| | Jands Vista D1 – More Playback Processing, More Possibilities | |
The new Jands Vista D1 expands the DMX processing capabilities of the entire Vista range. The rack mount D1 connects via Ethernet to a Vista console, Windows or Mac system and provides an additional 8192 channels (16 DMX universes). For even bigger systems just add more D1s.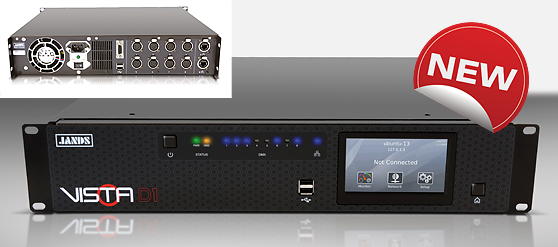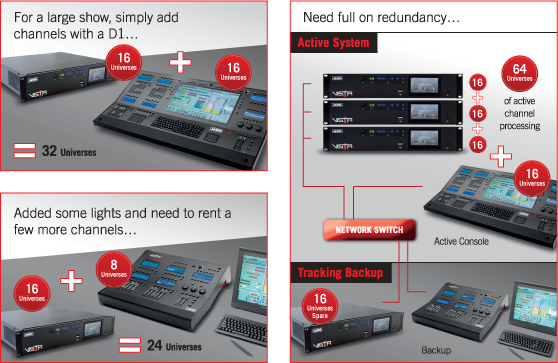 For more information, please visit jands.com/vista
Download the latest Jands Vista Lighting and Media Control Applications Brochure
| | | |
| --- | --- | --- |
| | Get Your Free Tradeshow Tickets On Us | |
Click here to register for your
Free USITT Show Pass

Promo Code: AC1409

Click here to register for your
Free Guest Pass

Guest Pass Code: LV8773
| | | |
| --- | --- | --- |
| | Upcoming A.C.Lightin Inc. Events | |
See Us at the following events:
27th - 29th Mar

(Fort Worth, TX)

Booth 1409

7th - 10th Apr

(Las Vegas)

Booth C11735

6th - 8th Jun

(Los Angeles)

18th - 20th Jun

(Las Vegas)

Booth C5054
| | | |
| --- | --- | --- |
| | We've Moved | |
We are pleased to announce that A.C. Lighting Inc. relocated to a larger facility in February, as part of an ongoing expansion program.

To accommodate A.C. Lighting Inc's rapid growth in the past few years, which has been driven in part by the strong performance of new products from our portfolio of exclusive brands, the company now occupies 43,000 sq ft - more than double the capacity of the previous facility.

The new location is just minutes away from our former home on Horner Avenue. Please update your contact details for us with immediate effect to:

A.C. Lighting Inc.
88 Horner Avenue
Toronto
Ontario
M8Z 5Y3
Canada

Our phone, fax and email details remain the same.
| | | |
| --- | --- | --- |
| | World Class Products, World Class Service | |
Schedule a hands-on demo of these exciting new products at your facility. Contact your A.C. Lighting, Inc. representative to set a date that meets your schedule.
| | | |
| --- | --- | --- |
| | world class products, world class service | |