| | | |
| --- | --- | --- |
| | Leading Lights Newsletter - Issue 14 | |
Welcome to Issue 14 of Leading Lights
from A.C. Lighting Inc.
We are smack dab in the middle of the fall tradeshow season and we are all smiles.

We just wrapped-up an incredible WFX show in Dallas, where the cool new Jands Stage CL won two awards. The first award for "Best Conventional Lighting Console" and the second for "Best Overall Lighting Product".
The PLASA show in London immediately followed WFX and provided the stage for Chroma-Q® to launch their new DC powered Studio Force™ product range.
Please join us at LDI in booth #1833 to see the latest in entertainment technology from ArKaos, Chroma-Q, Jands, LedGo and Prolyte. Get your free LDI pass from your friends at A.C. Lighting, Inc .
See you in Las Vegas Nov 22nd - 24th.
| | | |
| --- | --- | --- |
| | See the Multi Award-Winning Jands Stage CL Console for LEDs at LDI | |
Jands' "made for LEDs" Stage CL lighting control console has been awarded two Worship Facilities Expo (WFX) 2013 New Technology Awards for innovation in Dallas, Texas.

The WFX New Product Technology Awards are an integral element of the high profile annual WFX show, and are designed to honor the most innovative and pioneering entertainment technology products for the House of Worship market.

A panel of distinguished members of the WFX Advisory Board and WFX Management, and Editors from the industry's leading specialist Worship magazines, selected Jands Stage CL as "Winner - Best Conventional Lighting
Console"; and "Winner - Best Overall Lighting Product". Click here to read more.
Jands is making the award-winning Stage CL even better with the upcoming V1.2 software release. V1.2 doubles the Stage CL's control capability, adding a 2nd page of fixtures and includes several new features and enhancements.
Get your demo at LDI on our booth.
For more information, please visit jands.com/stage-cl
| | | |
| --- | --- | --- |
| | Chroma-Q Introduces Studio Force DC Battery Powered Models at LDI | |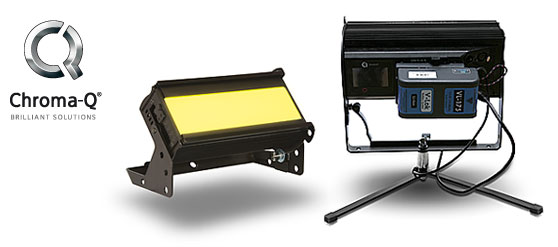 Also showing for the first time at LDI is the new DC battery powered version of the award-winning Chroma-Q® Studio Force V 12 Phosphor™ variable white lighting fixture. The Phosphor variable, daylight and tungsten white models provide a beautifully soft, even light source with a massive output for their compact 12" / 330mm length size. The variable white model includes remote onboard adjustment of hue, kelvin and level, to control not just the colour but also fine-tuning of the green and magenta tints. With their versatile feature set, the fixtures are ideal for location work.
For more information, please visit chroma-q.com
| | | |
| --- | --- | --- |
| | Jands Launches Vista D1 Playback Processor at LDI | |

Announcing the new Jands Vista D1, designed to expand the DMX processing capabilities of the entire Vista lighting and media control console range. The rack mount D1 connects via Ethernet to a Vista console, Windows or Mac system and provides an additional 8192 channels (16 DMX universes). For even bigger systems just add more D1s. Read more
Inside the D1 is a high performance Intel processor, 16GB of RAM , a Solid State Drive and dual gigabit ethernet connections to maximize playback performance and minimize latency. Fixtures can either be connected to the D1 over a network using Art-Net or sACN, or directly via the D1s eight DMX-512 outputs.
With a color LCD touchscreen the Vista D1 is simple to configure and quick to troubleshoot. Multi color LED indicators located on front-panel make is easy to see DMX activity for each of the 8 outputs as well as the unit's power, disk and network status.
One or more D1's can be used to provide additional channels for Vista consoles configured for tracking backup, and will automatically link to whichever console is active. For complete peace of mind a spare D1 can be added to a system and it will take over processing if an active D1 fails.
For more information, please visit jands.com/vista
| | | |
| --- | --- | --- |
| | LDInstitute: Jands Vista Lighting & Media Console Training | |
| | |
| --- | --- |
| | No matter if you are new to the exciting Jands Vista lighting and media control range, or are an existing user, the latest Vista v2 software will enable you to get the most from whatever mix of technology you have available, whether dimmers, moving lights, LEDs or media. |
We have set aside two full days to provide both introductory and advanced programming training sessions on the Vista v2 software in partnership with the LDInstitute.

Eddie Welsh of Jands is flying in from Australia to provide top-notch training. Early registration is recommended as space is limited, so why not sign up now.
The training session will cover all aspects of the new Vista v2 software and is geared to all levels and types of user - including designers, programmers, and operators - no matter what your background or knowledge level.

Introductory Level Vista Training
Wednesday, November 20th, 9:30am - 5:30pm
More info.

Advanced Level Vista Training
Thursday, November 21st, 9:30am - 5:30pm
More info.

For more information, please visit jands.com/vista
| | | |
| --- | --- | --- |
| | Dierks Bentley Rocks with Vista | |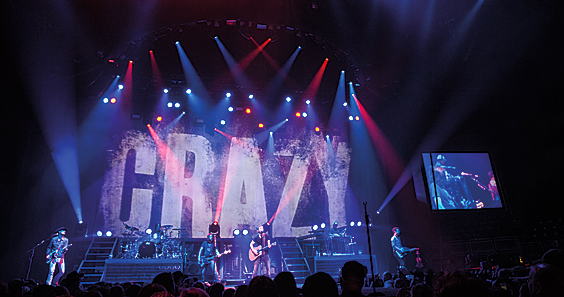 Lighting Designer, Chris Reade is currently touring non-stop using a Jands Vista T2 console and S1 wing to control lighting for Platinum-selling country music artist, Dierks Bentley on the Miranda Lambert and Dierks Bentley: Locked & Reloaded Tour.
Spanning across most of 2013, the Locked & Reloaded Tour is an exciting, action-packed event featuring two of country music's hottest artists; and for this Chris needs a powerful, reliable and rock solid system to control the show. To read the full article please click here.
For more information please visit www.jands.com/vista
| | | |
| --- | --- | --- |
| | ArKaos Launches Studio Server at LDI | |
ArKaos is set to unveil their new Studio Server at LDI. Show goers will also see more of the ArKaos magic with the preview of Video Optimizer. Featuring Media Master Pro, the Studio Server is a 4-output media server that packs all the power, performance and ease that ArKaos is famous for.

The Studio Server has been designed to deliver optimal images for the high-end demands of studio, concert tour, television and corporate applications. ArKaos' new Video Optimizer allows you to convert video files to optimal format with just a couple of clicks. Quality video just got easier!
For more information, please visit arkaospro.com
| | | |
| --- | --- | --- |
| | Last Few Spots Left - LDInstitute: ArKaos Media Server Training | |
| | |
| --- | --- |
| | If you are a creative lighting or video professional looking to establish a solid core of media server knowledge on one of the most powerful and economical media server solutions on the market, then the LDI ArKaos training is perfect for you. |
Designed for creative lighting designers, video operators and programmers, the ArKaos class provides participants with everything required to set-up, program and run a show - including video mapping, edge blending 3D mapping and advanced geometrical correction.
A.C. Lighting Inc. has negotiated special pricing with the LDInstitute for this hands-on media server class.
LDInstitute: ArKaos Media Server Training - Details
With a class limit of 10 participants and 2 participants per work station, you are ensured focused, hands-on training direct from the ArKaos factory trainer.
Taught by Toon Servaes of ArKaos, the class will cover:
1. Hardware Overview: Stage Server 2 Hd Outputs, Stadium Server 6 Hd Outputs.

2. Software: Overview Of Mediamaster Express and Mediamaster Pro.

3. Interface: Including Traditional Simple Mode and Advanced Fixture Mode.

4. Geometrical Correction: Soft Edge, Keystone, Geometrical Correction, Basic and Advanced Soft Edge.

5. Led Mapper Interface Overview and Fixture Mapping.

6. Video Mapper: Interface Overview, Output Management Hands-On 3d Surface Mapping and Interpolation.
Last Few Spots Left!
ArKaos Media Server Training
Thursday, November 21st
9:00am - 1:00pm
More info.

SOLD OUT!


ArKaos Media Server Training


Thursday, November 21st
2:00pm - 6:00pm
| | | |
| --- | --- | --- |
| | Prolyte H30V Truss | |
If you are looking for a strong, durable trussing solution, look no further than Prolyte's H30V Series truss. Designed for high-frequency, demanding applications, H30V is ideal for touring, rental and, exhibit companies.

H30V Series truss is constructed with 48 3mm x 3 mm main tubes and 16mm x 2 mm diagonals, and incorporates the innovative CCS6 coupling system.

The CCS6 coupling system allows for fast, efficient and reliable coupling of your truss and corners.

When Prolyte Structures designed the original Conical Coupling System (CCS®), it represented a huge step forward in the development of truss systems. Even today, the now much-copied Conical Coupling System is unrivalled in efficiency, strength and ease of assembly. Exhibiting significant advantages over other types of connection systems, the innovative Conical Coupling System has gained a worldwide reputation for excellence and efficiency.

Contact your A.C. Lighting sales representative for a quotation on your next system.

For more information, please visit prolyte.com/prolyte-structures
| | | |
| --- | --- | --- |
| | Upcoming A.C. Lighting Inc. Events | |
See us at the following events:
| | | |
| --- | --- | --- |
| | World Class Products, World Class Service | |