| | | |
| --- | --- | --- |
| | Visit Us at InfoComm 2013 for Exclusive Product Demos | |
Charging out of a busy spring season at USITT, NAB and Prolight & Sound, and headlong into InfoComm, we have plenty of exciting news to share with you.
Oscars, Emmys and Golden Globes. The awards season rewarded many in the entertainment industry for their hard work, dedication and commitment to excellence. On the technology side, the awards season rewarded the teams at Chroma-Q® and Jands for their hard work and commitment to excellence as the new Studio Force V 12 Phosphor™ LED fixture and Stage CL lighting console took home awards at the SIEL exhibition in Paris, France. The SIEL awards followed the multiple awards won by the Chroma-Q Inspire™ at the WFX tradeshow.
See the exciting, new and award winning technologies at the upcoming
InfoComm show in Orlando, June 12th - 14th, on our booth #5775.
| | | |
| --- | --- | --- |
| | Get Your InfoComm Passes | |

The prestigious InfoComm show will be held at Orange County Convention Center in Orlando, Florida.
Visit A.C. Lighting Inc. on booth #5775 at InfoComm during the 12th - 14th June.
Click here to get your InfoComm pass...
| | | |
| --- | --- | --- |
| | | |
Chroma-Q™ and Jands received prestigious "Les Etoiles du SIEL 2013" awards for their new Studio Force V 12 Phosphor white lighting fixture and Stage CL LED lighting console at this year's SIEL show in Paris, France.

An expert judging panel awarded 17 products exhibited at the show for their innovative designs.
Chroma-Q Studio Force V 12 Phosphor Wins Les Etoiles du SIEL 2013 Award

Intelligent LED lighting manufacturer, Chroma-Q received a prestigious "Les Etoiles du SIEL 2013" award for the new Studio Force V 12 Phosphor™ white lighting fixture at this year's SIEL show in Paris, France.
Utilising the same innovative LED technologies found in the Studio Force range, the new Studio Force V 12 Phosphor is a 3,200 – 5,600K CCT, variable white fixture which provides an equivalent soft edge output to a fluorescent unit – up to 6,000 lumens.
Developed specifically for use in TV, film and broadcast studio environments, the Studio Force V 12 Phosphor incorporates fine-tuning of the green and magenta tints and frequency for camera, an extremely smooth uniform wash, extra soft beam, theatrical grade dimming and laboratory calibration to match Black Body Locus.
Selected by the expert judging panel for its innovative linear variable temperature and green / magenta correction abilities, the Studio Force V 12 Phosphor offers new levels of versatility for any studio lighting environment.
Chroma-Q's Global Brand Manager, James Bawn comments: 
"We are absolutely delighted to receive a Les Etoiles du SIEL award…Lots of time and energy went into fine-tuning our phosphor LED technology, so winning an award for innovation in this category is a very rewarding outcome."
The Studio Force V 12 Phosphor is also available in daylight white phosphor (5,600K / 8,000 lumens) and tungsten white phosphor(3,200K / 6,000 lumens) color temperature versions, as well as conventional daylight and variable white models, which are available in compact and batten sizes.
Accepting the award on behalf of Chroma-Q was Alain Cornevaux and Olivier Torres from the company's exclusive French distributor, ESL.
For more information please visit www.chroma-q.com

Jands Stage CL Wins "Les Etoiles du SIEL 2013" Award

Australian lighting console manufacturer, Jands received an esteemed "Les Etoiles du SIEL 2013" award for their new Stage CL console at this year's SIEL tradeshow in Paris, France.

Specifically "made for LEDs", the Stage CL is an entry level, self contained console, designed to offer the simplicity of a generic fader desk for both static LEDs and dimmers.
Each of the Stage CL's 12 channels features intuitive color control via a pair of hue/saturation encoders with a simple intensity fader. The Stage CL offers a wide selection of quick, easy to use pre-set colors and effects via its touch screen interface.
Ideal for a wide-range of applications including corporate events, houses of worship, community theatre, retail displays, night clubs, weddings and parties. The Stage CL offers a simple and easy to use "out of the box" control system for anyone who has adopted LED technology, regardless of technical skill and prior knowledge.
Impressed with the Stage CL's easy operation and innovative design, the expert judging panel presented the award to representatives Alain Cornevaux and Olivier Torres from Jands' exclusive French distributor, ESL.
Jands Europe's, Neil Vann comments "The Stage CL was designed to get the most out of LED technologies. Providing simple manual control and easy storing, more and more people are finding the Stage CL is the perfect solution for simple, fast and effective LED lighting control."

For more information please visit www.jands.com/stage-cl/
Get your demo exclusively on our booth at InfoComm.
| | | |
| --- | --- | --- |
| | Chroma-Q Inspire™ - Get Inspired | |
| | |
| --- | --- |
| Chroma-Q's latest cutting-edge LED lighting innovation, the Inspire House Light, won two New Product Technology Awards - for 'Best LED Fixture' and 'Best Overall Lighting Product' - at the most recent Worship Facilities Expo (WFX), held in Atlanta | |
It was a real honor to win the WFX Awards. The Worship market is extremely important to us, which is why we developed a fixture with Chroma-Q which is specifically geared towards it. To have the Inspire capture the attention and imagination of the judges is very rewarding.
The WFX New Product Technology Awards are an integral element of the high profile annual WFX show, and are designed to honor the most innovative and pioneering entertainment technology products for the House of Worship market.
The winners were selected by a panel of Editors from Church Production Magazine, Worship Facilities Management and Worship Facilities Designer Magazine, as well as distinguished members of the WFX Advisory Board and WFX Management.
Designed with the House of Worship market in mind, the Inspire provides worship teams with a truly flexible and creative lighting tool that transcends the physical barrier between the platform and the congregation by enveloping the space in color and helping to connect the parishioners to the message.
As an ideal house lighting solution for most architectural spaces, the Inspire includes features such as ultra-smooth theatrical grade dimming, even at the lowest intensity levels; an incredibly low power consumption of 110W for extreme energy efficiency; three lens options; an excellent range of 'true' whites combined with fully homogenised full color mixing; silent convection cooling, and a high CRI of 90 - all in a single fixture.
The Inspire has the ability to transform a room from traditional white light to a full color mixing effect completely, seamlessly, changing the look, feel and dynamic of the space through the innovative use of color and light, from delicate pastels to bold saturates and beautiful rich whites.,
Other features include DMX-512 connectivity for seamless integration with an existing DMX infrastructure, a camera friendly adjustable 600 - 4,800Hz frequency to avoid camera flicker and an extreme output of 4,00 hot lumens - providing massive amounts of output across the spectrum.
Get your demo exclusively on our booth at InfoComm.
| | | |
| --- | --- | --- |
| | NEW: ArKaos Stadium Server Launches at InfoComm | |
| | |
| --- | --- |
| | A.C. Lighting will launch the new ArKaos Stadium Server at InfoComm. |
Making its North American debut at InfoComm, the Stadium Server is an incredibly powerful system designed as a top of the line solution for professional Lighting Designers. 
This full-option media server runs Full HD video on up to six EDID managed outputs and comes standard with two HD-SDI inputs and fast SSD drives. This incredibly powerful system contains a vast library of high quality digital media from the world's best visual content providers and a fast recovery system by Acronis which allows extremely simple reset of the server from the boot menu.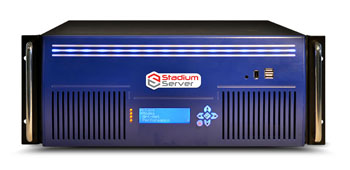 The custom made case features a very convenient display on the front which allows using the server without having to connect any additional screen. On top of it, a large LED strip conveniently provides a quick visual feedback on the server's state of operation at any time. It is pre-configured to work directly with all market leading DMX lighting desks. Everything has been done so you just have to plug and play. Shock-resistant up to 2G. Heat tested. Providing easy access to fans and filters. The Arkaos Stadium Server is totally road ready.
Look for an upcoming review in the June edition of PLSN.
| | | |
| --- | --- | --- |
| | Prolyte Trussing and Staging Products Showcased at InfoComm | |
A.C. Lighting is proud to display Prolyte trussing and staging products at InfoComm. The Prolyte Group is one of the largest manufacturers of high quality aluminum truss, staging, roof systems, crowd barriers and hoists in the world. On display at InfoComm will be the H30 Series of truss, the XPRS LiteConsole and StageDex decking.
H30 Series Lightweight Truss

Designed to be strong yet compact, the H30 series is extremely versatile and is the ideal solution for any live events application. It is constructed of main tubes (48.3 x 3mm) and diagonals (16 x 2mm), and uses the CCS6 coupling system. The H30 series is available
in a variety of elements that provide maximum flexibility, including standard or custom-made lengths, circles and arches, and several types
of corners.
XPRS LiteConsole

LiteConsole XPRS is an extremely versatile podium structure that offers a portable and
high-visual-impact solution for any number of applications from live musician and DJ performances, to corporate AV presentations, exhibitions, conferences and retail environments where it makes an extremely eye-catching stand.
StageDex

StageDex is one of the strongest and most versatile staging systems on the market for the building of temporary or demountable stages. Made from a special extruded aluminum profile, with a plywood top bolted and glued to the frame to reduce noise and vibration, StageDex is lightweight yet has a high loading capacity. Completed by a range of support options, StageDex is very adaptable for different circumstances and can be transformed quickly and easily.
| | | |
| --- | --- | --- |
| | A.C. Lighting, ArKaos and the ROOF | |
A.C. Lighting is proud to have supplied the ArKaos Stage Media Server with MediaMaster Pro software and Video Mapper feature, for the ROOF at theWit, a AAA Four Diamond Hotel in Chicago.

The new system has been installed to facilitate customized visual experiences for the hotel's newly-opened, state-of-the-art 3D mapping installation, theWall.
| | |
| --- | --- |
| | theWall is the first of its kind, being a permanent 3D mapping installation that provides immersive visual and optical illusion entertainment to the corporate hospitality world. |
Measuring approximately 20 feet wide by 12 feet tall, theWall integrates the ArKaos Stage Server with sophisticated robotic cameras and intricate stage lighting on a custom designed and built 3D projection surface with motion production capability and a retractable flat screen.
| | |
| --- | --- |
| The custom ArKaos Stage Server at the heart of theWall is running MediaMaster Pro with projection through the Video Mapper and LED mapper softwares. The Stage Server was selected for its massive structural strength, stability and reliability to run live video shows in real-time. | |
The ArKaos Stage Server is used as a visual synthesizer that allows the client to trigger and manipulate customized graphic content on a large scale on ROOF, it's a plug-and-play solution that is also fully capable of triggering the existing DMX lighting in the venue.
theWit's artist-in-residence and digital content producer, along with Dan Block, also known as "DBlock", who excels at 3D visual creation, have been using Cinema 4D and Adobe After Effects with various plug-ins to create custom visual effects and a fully-customized graphic show specifically adapted to theWall's new 3D structure, taking advantage of the ArKaos Stage Server 's live video output features. The Stage Server has two full HD outputs to separately manage and run the club's existing LED and new projection screens, and can run up to 8 layers of video simultaneously.
theWall is the brainchild of CEO and founder of theWit, Scott Greenberg who, exploring fields of technology outside the retail and hospitality industry, recently discovered the use of 3D projection and video mapping in live music and gaming. The discovery inspired him to create theWall as the first dedicated and permanent 3D video mapping surface in a rooftop lounge.
| | | |
| --- | --- | --- |
| | World Class Products, World Class Service | |
A.C. Lighting Inc.

435 Horner Avenue, Unit 1,
Toronto, ON. M8W 4W3. Canada
Tel: 416-255-9494, Fax: 416-255-3514
northamerica@aclighting.com