Leading Lights Newsletter | Issue 19

Welcome to Leading Lights Issue 19

With the awards season and the 2016 Oscars fresh in our minds, A.C. Lighting Inc. is preparing to launch the innovative new Chroma-Q® Space Force™ fixture, which is sure to make an impact in the film and studio markets. LumenRadio provides a valuable supporting role by adding a robust wireless DMX option to the incredibly versatile Space Force. Look for the LED space light's debut at the NAB show in Las Vegas.

As we head into the very busy spring tradeshow season, all of A.C. Lighting's exclusive brands have blockbuster new products on tap to help you grow your business. Stay tuned and look for incredibly exciting news from ArKaos, Chroma-Q, Jands, LumenRadio and Prolyte.
Best regards,

Fred Mikeska
V.P. of U.S. Sales & Marketing
A.C. Lighting Inc.
(518) 494-9988
fred.mikeska@aclighting.com

We are on Facebook and Twitter! Follow us for the latest breaking news, user application stories, competitions & other fun stuff.
| | |
| --- | --- |
| | UPCOMING EVENTS |
Be sure to register for your FREE USITT and NAB passes, courtesy of A.C. Lighting:






Salt Lake, Utah.
Booth #1527
Mar 17 - 19, 2016

Click & enter promo code: AC1527





Las Vegas, Nevada.
Booth #C11319
Apr 18 - 21, 2016

Click & enter promo code: LV2775
| | |
| --- | --- |
| | INTRODUCING CHROMA-Q® SPACE FORCE™ - THE NEXT FRONTIER |
Chroma-Q® is excited to introduce its innovative new Space Force™ LED fixture - the next frontier in space lighting.

The Space Force™ is a cutting-edge variable white LED fixture source that is a true alternative to conventional space light and soft light sources commonly used in film and TV studios around the world. Extensive RDM functionality through wired or the optional LumenRadio CRMX connections. Hanging options include a standard bridle or optional yoke and low-profile hanging bracket.

Highly efficient, lightweight, and natively single source, the fixture is CCT tunable between 2,800K and 6,300K. The diffuse nature of its output negates the need for silks or skirts.
Key features include:
Comparable to a traditional 6kW fixture
Up to 26,700 lumens
Variable white – 2,800K to 6,300K
Only 8 kg / 17.6 lbs
No fans, no noise
Smooth, soft uniform beam
Variable PWM flicker-free operation
Multiple hanging options
Wireless DMX / RDM
Superior unit-to-unit consistency
Chroma-Q's proven LED performance
| | |
| --- | --- |
| | NEW CHROMA-Q® PRODUCT VIDEO - STUDIO ONE 100™ WHITE LED PAR |
Take a minute to watch the new Chroma-Q® Studio One 100™ White LED PAR video. Recently added to the series of Chroma-Q® videos on YouTube, the fast-paced demo is loaded with information and makes a great sales tool to share with your clients.


Other featured products
include the:
| | |
| --- | --- |
| | CHROMA-Q® COLOR ONE 100s™ LIGHT UP NIAGARA FALLS POWER STATION |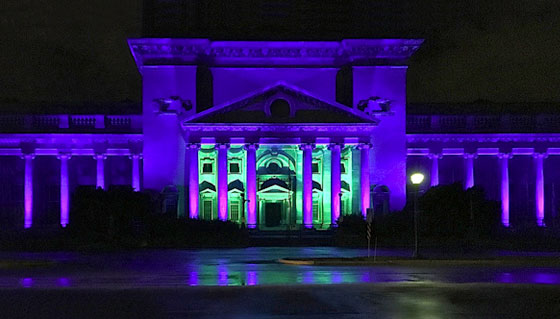 Chroma-Q® Color One 100™ LED PARs provided a powerful yet energy-efficient lighting solution to beam bold colors, soft pastels and stunning whites onto the massive exterior façade of the Toronto Power Generating Station - playing against the background of the national historic site at Niagara Falls, Ontario, Canada.

Watch a video of the lighting in action.
The project was part of the Niagara Winter Festival of Lights event, which transforms the area around Niagara Falls into a palette of stunning colors, with millions of sparkling lights making up beautifully illuminated displays. Recently, the organizers have made a concerted effort to utilize only power-saving LED technology for their lighting designs.

Shear Display was the contractor responsible for the design and implementation of the installations along the Winter Festival of Light. One of the major elements of the Festival was a sound and light show on the exterior of the Toronto Power Generating Station - a majestic building adjacent to the Niagara River, fashioned in the Beaux-Arts style - which was illuminated by 75 IP65-rated Chroma-Q® Color One 100™ lighting fixtures.

Shear Display engaged the services of Toronto-based lighting company, Bartnes & Associates to oversee the lighting design, music creation, supply and maintenance for the project, which lit the power station for a three-month period.

"We recommended the 75 Color One 100s specifically for this event, choosing them because we required an IP65 fixture that could offer reliability for 12 weeks in open-air, unpredictable conditions right next to the Niagara Falls, as well as RGBA for superior color-mixing from a compact unit", says Bartnes & Associates' Eric Bartnes. "We can gang so many together on a single circuit and rig them easily. We also love the power-in and out connectors, and the stainless steel data connections."

Having ceased operations in 1974, the Toronto Power Generating Station is 'dead' and therefore custom electrics had to be installed to power the Festival lighting.

"We had eight circuits of 120V on the building side and only two circuits for FOH, which was stationed in a trailer across the street from the building", explains Eric.

Ironically, the 'on at full power' energy consumption of the Color One LED units was only 50 Watts per fixture / a total of 3.75 kW for all 75 fixtures - in stark contrast to the Toronto Power Generating Station, which in its prime had a generating capacity of up to 102,500 kW.

"The power station's pillars provided a natural opportunity to uplight their surface, and we used custom concrete blocks with nuts embedded in the concrete for baseplates, upon which the 75 Color One 100 units were placed. We also designed a custom low-profile aluminum lighting tower to get some lights 20 feet in the air."

The Chroma-Q Color One 100 features an innovative fully homogenized beam, virtually eliminating the color separation and shadows synonymous with LED lighting - delivering above PAR performance from ONE source. The extensive RGBA color-mixing palette delivers deep-cold blues, red-hot lava looks and super-soft pastels, as well as a complete range of whites. In addition, the calibrated light engines ensure extremely accurate color-matching.

The Color One 100 light show ran automatically for seven hours per night, seven days a week, controlled by a Jands Vista console with a LumenRadio set-up to send signals across the road to the receivers. The Niagara Winter Festival of Lights kicked off in November 2015 and ran until the end of January 2016.

"The ice mist around Niagara Falls can be brutal, but the Color One 100s all performed!", Eric concludes.
| | |
| --- | --- |
| | LUMENRADIO CRMX™ WIRELESS DMX PLATFORM |
When the new Chroma-Q® Space Force™ launches at the NAB show in Las Vegas, it will be available with the award-winning LumenRadio CRMX™ wireless DMX platform. CRMX features include Automated Cognitive Coexistence, DMX fidelity, extremely low latency at 5ms, and 128 bit encryption providing exceptional flexibility for both wireless and wired DMX and RDM.
In classic sci-fi tradition, we are not alone. Several of the top film and studio equipment manufacturers offer products with on-board LumenRadio CRMX capability, including Kino Flo, LiteGear, Filmgear, RC4 Wireless, and Innovative Dimmers / RatPac Dimmers, just to name a few.
| | |
| --- | --- |
| | JANDS VISTA STACKABLE DONGLES |
Jands, the company that helped to change the lighting console market with its revolutionary control channel upgrade program, is now offering the ability to stack / combine channel dongles together to expand your Jands Vista system channel count. Simply combine two stackable channel dongles together and harness the power of the combined channel count!
Jands Vista dongles can be traded in for new-style stackable dongles for only $225.00 MSRP.

Contact your local Jands Vista Dealer for details.
| | |
| --- | --- |
| | VIDEO MAP LIKE A PRO AT USITT & NAB AND WIN ARKAOS MEDIAMASTER PRO |
After proving very popular at tradeshows last year, ArKaos PRO and A.C. Lighting Inc. are pleased to announce that they will be giving away ArKaos MediaMaster PRO licenses during the USITT and NAB shows.

Get a hands-on demo of the incredibly popular ArKaos MediaMaster PRO software at the A.C. Lighting booth at these two shows, and then register for your chance to win.
ArKaos PRO is excited to help attendees develop their video mapping skills and show just how easy it is to incorporate creative visuals into their productions.

"We are looking forward to seeing how amazed attendees will be once they see just how quick and easy it is to program complex video mapping scenarios using MediaMaster PRO," says ArKaos MD, Agnes Wojewoda."

Register for your chance to win during each day of the USITT and NAB shows.

Visit A.C. Lighting booth #1527 at USITT and booth #C11319 at NAB, get your hands-on demo and register for your chance to win a copy of MediaMaster PRO license, including the new Cue Player feature, with a retail value of $2,550.00. It's easy to learn and win!
ArKaos Media Servers Save BIG

Now is a great time to save BIG on ArKaos Media Servers. In conjunction with ArKaos, A.C. Lighting is offering a 20% discount on B-Stock ArKaos Stage, Studio and Stadium Media Servers. The ArKaos Media Servers are loaded with the latest V4.2 MediaMaster PRO software and carry a full warranty.

Take advantage of the savings through April 30th.
| | |
| --- | --- |
| | EASTER AT ASBURY UNITED METHODIST CHURCH |
With the Easter season upon us, Tim Ottley, Lighting Director for Asbury United Methodist Church in Tulsa, is hard at work preparing for their upcoming Easter celebration. Tim and his team at Asbury UMC used ArKaos MediaMaster PRO running on an ArKaos PRO Stadium Server to create stunning environmental projections inside their church last year. Click here to see the video.
"Environmental projection in church is such a leap forward from the more usual form of presentations on a screen or series of screens," says Tim. "Before we started using projection mapping, we used a center screen and two white curtains either side to show our visuals, but this looked boxy and square, and gave the congregation a passive experience, rather like watching television. But church is not a passive environment. It is a gathering place which brings people together, where the experience and the moods within a room are paramount. Environmental projection is advantageous as it envelops the congregation in a much more active, engaging way."

The interior of Asbury United Methodist Church is vast and offers huge potential as a projection surface. It is over 300ft wide and between 30 - 60ft high, but it has a baptistery where the center 'screen' would be, and organ pipes to the left and right which, being rounded and shiny, take away much of the detail of a projection. "I knew with MediaMaster PRO I would be able to map around or moderate these obstacles in a way that works for the room, and wrap the imagery over all the nooks and crannies, obscuring or accentuating the architecture as I wish," says Tim. "So last Easter, I made it my goal to change the way we presented things and to use ArKaos MediaMaster PRO to its full extent, to really bring the church environment to life."

Working with a graphic designer, Jason Yang, of Invisible Element, Tim created an animated narrative of the Easter story as an introduction to the service that followed.

"Inspired by a really old film I had seen where the stained glass came to life, we decided to animate the Easter Story in stained glass," explains Tim, "from Palm Sunday, the Last Supper, Jesus in the garden praying, the crown of thorns, Jesus carrying the cross, the crucifixion, the tomb and finally the resurrection. Each scene was created as an individual animation by Jason, and then I created an appropriate surface for each one, using the ArKaos mapping software to shape and place each one. This allowed us to have amazing control over each image and use the maximum resolution of the projectors to allow the color to be as vivid as possible."

"The final images were enhanced by music provided by both our traditional and contemporary music departments. We also layered in the sound of glass - rather than wood - to complete the effect. The image of a stained glass Jesus carrying a cross over 100 feet of the sanctuary with the sound of scrapping glass, was very powerful."

"The beauty of MediaMaster PRO is that it allows you to build up sophisticated visuals by layering. I can take a single image, shape it to the projection surface for which it is destined, and then do the same with other images, layering multiple surfaces onto a single projection space to build up complex pictures."

"MediaMaster PRO is super-effective as it allows you to do this inside the software. Then there are lots of built-in effects control - for example, I can change the speed of playback to match the music, change the color, remove all the black from an image. This adds up to a very effective, flexible system which speeds up the rate at which I can work."

The video footage was projected through five 20,000 lumen Digital Projection projectors and Tim was able to split some surfaces between the projectors. "It was easy to combine the surfaces and shape them to individual projection positions," he says.

"Having built the surfaces for the room and established the masking, it is now very easy to change the presentation simply by introducing new images from the image library. For example, we had only a short period of time to prepare for last year's Thanksgiving Service, so I was able to take images from the library we have built over the last few years, program them into the surfaces I already had mapped for the room, and program these into the lighting desk to be cued like another lighting fixture. It's a very quick and easy way of working."
| | |
| --- | --- |
| | BE GREEN AND SAVE GREEN WITH PROLYTE'S TRUSS EXCHANGE PROGRAM |
A.C. Lighting has Prolyte truss in stock and ready to go! And, buying Prolyte truss has never been easier with Prolyte's Truss Exchange Program. Trade in your old and tired truss, and Prolyte will give you up to 5 times the scrap value for your truss. Take delivery of your new Prolyte truss and your old truss is taken away free of charge to a recycling plant, and does not return to the market.

Don't miss this unique opportunity! Available in the U.S. throughout 2016.
Contact your A.C. Lighting sales representative for more details.


*no combinations possible
| | |
| --- | --- |
| | SCHEDULE A HANDS-ON DEMO |
Schedule a hands-on demo of these exciting new products at your facility. Contact your A.C. Lighting Inc. representative to set a date that meets your schedule:


The rights and ownership of all trademarks are recognised. Whilst every effort has been made to ensure that the information is correct, A.C. Lighting Inc. accepts no liability for errors or omissions. Technical specifications and data are provided for guidance only. Because manufacturers constantly aim to improve their products, they reserve the right to amend or alter at any time and without prior notice, the specifications of any product. E&OE.