| | | |
| --- | --- | --- |
| | Leading Lights Newsletter - Issue 18 | |
Welcome to Issue 18 of
Leading Lights from A.C. Lighting Inc.
Get ready for a hyper-busy Fall season. The Canadian Institute for Theatre Technology (CITT) conference and tradeshow in Vancouver, Canada kicked off the Fall tradeshow season and A.C. Lighting Inc. was proud to be honored by the organization with its 2015 Supplier Achievement Award. Each year the organization recognizes individuals and companies that excel in their field of live performance in Canada. A.C. Lighting Inc's COO, Penny Watier received the award on behalf of the company at the CITT 2015 Awards Banquet.

The energy and excitement from CITT is sure to build as we head into PLASA London, LDI, IAAPA and WFX. Be sure to register for your FREE LDI pass courtesy of A.C. Lighting Inc. (enter the VIP code: E236), and lock-in the dates and locations for each show below. Look for exciting new product introductions at each show!
October 4 - 6th, 2015
October
23 - 25th, 2015
November
17 - 20th, 2015
November
18 - 19th, 2015
Regards,

Fred Mikeska
VP Sales and Marketing
A.C. Lighting Inc.
fred.mikeska@aclighting.com

We are now on Facebook
and Twitter! Follow us for the
latest breaking news,
user application stories,
competitions & other fun stuff.
| | | |
| --- | --- | --- |
| | New Chroma-Q® Product Videos | |
Chroma-Q® introduced a series of new product videos this summer. The new videos feature the Inspire™ color-changing LED House Light range, Color One 100™ color-changing LED Par, and Studio Force Phosphor™ white LED soft lights series. The fast-paced videos are loaded with information and make great sales tools to share with your clients. Look for more Chroma-Q product videos on You Tube.

Inspire™
Color One 100™
Studio Force Phosphor™
| | | |
| --- | --- | --- |
| | Jands D1 Playback Processor Now Available | |
We have just started shipping the new Jands Vista D1 Playback Processor. The Vista D1 kicked-off the summer on the Fall Out Boy "American Beauty/American Psycho" Tour, designed by Robb Jibson. The D1 has been designed to expand the DMX processing capabilities of the entire Vista lighting and media control console range. The rack mount D1 connects via Ethernet to a Vista console, Windows or Mac system, and provides an additional 8192 channels (16 DMX universes). For even bigger systems, just add more D1s.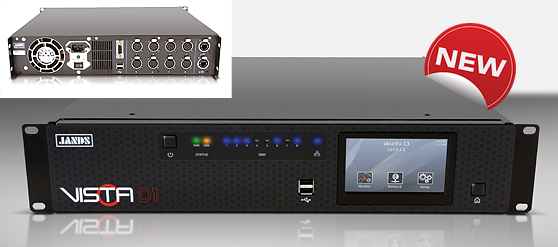 Inside the D1 is a high performance Intel processor, 16GB of RAM, a Solid State Drive and dual gigabit ethernet connections, to maximize playback performance and minimize latency. Fixtures can either be connected to the D1 over a network using Art-Net or sACN, or directly via the D1s eight DMX-512 outputs.

With a color LCD touchscreen, the Vista D1 is simple to configure and quick to troubleshoot. Multi color LED indicators located on front-panel make is easy to see DMX activity for each of the 8 outputs, as well as the unit's power, disk and network status.

One or more D1s can be used to provide additional channels for Vista consoles configured for tracking backup, and will automatically link to whichever console is active. For complete peace of mind, a spare D1 can be added to a system and it will take over processing if an active D1 fails.

For more information, please visit www.jands.com/vista

Photos © Jack Edinger
| | | |
| --- | --- | --- |
| | Prolyte Truss Locater App | |
Find or be found! With the free Prolyte Truss Locator app, you're able to find sales or rental points close to your location. Furthermore, it shows you what is in stock at the distributing points at that time and place. Get the replacements in quickly and save your show!

Get listed

Already over 300 Prolyte distributors, service points, sales and rental partners are listed on the Prolyte Locator app. It's a handy tool that not only lists our partners and where to buy or rent Prolyte products; it provides an overview of events, campus seminars and exhibitions all in one place. Don't miss this unique and free opportunity to join the network - speak to a Prolyte representative to confirm your listing.

Sign-up today and stay in touch with the Prolyte Newletter.
| | | |
| --- | --- | --- |
| | A.C. Lighting Inc. Receives 2015 CITT Supplier Achievement Award | |
We have been honored by the Canadian Institute for Theatre Technology with its 2015 CITT Supplier (Corporate) Achievement Award.

Each year the organization recognizes individuals and companies that excel in their field of live performance in Canada.

The CITT Supplier (Corporate) Achievement Award - which is voted for by its members - recognizes the sustained commitment and contribution a supplier has made to the Canadian cultural industries community with its quality services, as well as the support it has shown to the organization over the years.
A.C. Lighting Inc.'s Chief Operating Officer, Penny Watier, received the award on the behalf of the company at the CITT 2015 Awards Banquet, which followed the organisation's RENDEZ-VOUS 2015 annual conference and trade show - this year held at the Vancouver Convention Centre in British Columbia, between August 20th - 22nd.

Michael Harris, CITT President, commented: "Over the years, A.C. Lighting Inc. has been an avid supporter of CITT. It has always been part of the CITT's annual trade show, has sponsored CITT events numerous times, as well as provided professional development opportunities to CITT members with its seminars on LEDs - presented by its Managing Director, JF Canuel. The appointment of industry veteran, Penny Watier as Chief Operating Officer in 2013 has further contributed towards strengthening the company's relationship with CITT / ICTS. It is always a pleasure to collaborate with A.C. Lighting Inc..

"The A.C. Lighting team in Toronto truly cares about our organisation, its members and the industry, which is why we wish to honor and celebrate them, and why we feel that they are deserving of the CITT Supplier (Corporate) Achievement Award for 2015. We thank you."

Formed in 1990, CITT is a national arts service organisation that actively promotes the professional development of its members and works for the betterment of the Canadian live performance community.

A.C. Lighting Inc.'s Penny Watier commented: "I am extremely proud and delighted to receive this award on behalf of the entire team at A.C. Lighting Inc. To be voted the recipients by members of the Canadian Institute for Theatre Technology / Institut canadien des technologies Scénographiques is a real honor. The team at A.C. Lighting Inc. prides itself on always striving to deliver the highest possible level of customer service and support. To be publicly acknowledged in this way by our industry peers is very special - we are privileged to work with fantastic people in this industry who constantly push the creative boundaries of what's possible with the leading entertainment technologies that we supply. We thank you for this award and your support!"
| | | |
| --- | --- | --- |
| | ArKaos Media Master Pro Training @ LDI | |
| | |
| --- | --- |
| Designed for creative lighting designers, video operators and programmers, the ArKaos media server class provides participants with everything required to setup, program and run a show, including video mapping, edge blending, 3D mapping and advanced geometrical correction. Each half-day session provides focused, hands-on training with the new MediaMaster Pro V4.2 software and media servers range, direct from the ArKaos factory trainer. | |
Target Audience:

Creative lighting and video professionals who wish to establish a solid core of media server knowledge on one of the most powerful and economical media server solutions on the market.


Session Highlights:
1. Hardware Overview: Stage, Studio and Stadium Servers

2. Software: Overview of MediaMaster Express 4.2 and MediaMaster Pro 4.2

3. Interface: Including Theatre Mode and Advanced Fixture Mode

4. Geometrical Correction: Soft Edge, Keystone, Geometrical Correction, Basic and Advanced Soft Edge




5. LED Mapper: Interface Overview and Fixture Mapping

6. Video Mapper: Interface Overview, Output Management, Hands-On 3D Surface Mapping and Interpolation

Taught by: Benjamin Bauwens from ArKaos

Class limit: 10 (two per workstation)
LT34: ArKaos Media Server Training
Thursday, October 22, 2015
9:00AM - 1:00PM
Room: N257
Register Today!


LT35: ArKaos Media Server Training
Thursday, October 22, 2015
2:00PM - 6:00PM
Room: N257
Register Today!


LT36: ArKaos Media Server Training
Friday, October 23, 2015
2:00PM - 6:00PM
Room: N257
Register Today!



LT37: ArKaos Media Server Training
Saturday, October 24, 2015
2:00PM - 6:00PM
Room: N257
Register Today!



ArKaos Media Servers Save BIG

September is a great time to save BIG on ArKaos Media Servers. In conjunction with ArKaos, A.C. Lighting is offering a 15% discount on B-Stock ArKaos Stage, Studio and Stadium Media Servers. The ArKaos Media Servers are loaded with the latest V4.2 MediaMaster Pro software and carry a full warranty.

Take advantage of the savings through to September 30th.


| | | |
| --- | --- | --- |
| | Jands Vista Training @ LDI | |
| | |
| --- | --- |
| Spend the day learning how to program on one of the most innovative lighting consoles on the market. Begin thinking and working visually. This class will provide beginner and advanced level training exposing you to the incredible power of the Vista's visual interface and timeline. | |
No matter if you are new to the exciting Jands Vista lighting & media control range, or are an existing user, the latest Vista v2.3 software will enable you to get the most from whatever mix of technology you have available, whether dimmers, moving lights, LEDs or media. Imagine if you could design your lightshow the way you see it - visually.

The training session will cover all aspects of the Vista v2.3 software and is geared to all levels and types of user - including designers, programmers, operators - no matter what your background or knowledge level.


Jands Factory Certified Training: Jands Vista Training


Target Audience:

Console operators and programmers

Seminar Highlights:


1. Patching and setting up the Vista's visual interface for your work flow

2. Creating and updating Group, Position, Color and Beam palettes

3. Programming conventional and moving lights with the Vista's unique timeline

4. Creating and editing dynamic chase effects

5. Creating and manipulating pixel mapped images

6. Working with media servers and the timeline

7. Networking multiple consoles and back-up configuration



Taught by: console expert Eddie Welsh of Jands
L15: AC Lighting/Jands Factory Certified Training:
Intro Level Jands Vista Training
Wednesday, October 21, 2015
9:30AM - 5:30PM
Room: N260
Register Today!
L16: AC Lighting/Jands Factory Certified Training:
Advanced Level
Thursday, October 22, 2015
9:30AM - 5:30PM
Room: N260
Register Today!
Chroma-Q® Color Force™
Brightens Ambitious Michigan High School Theater Production
Chroma-Q® Color Force 12™ multi-purpose LED fixtures were recently specified by lighting sales and production company, E2i Design for an ambitious show at Michigan's Brighton High School.

The school's Musical Theater troupe was the first in the state to perform the spectacular Tony Award-winning new musical, Nice Work If You Can Get It.

E2i Design's Josh Holowicki passionately supports the school's theater in a number of ways - as vice chairman of the board of directors, as volunteer technical director and scenic designer, and as producer. As the technical director, he's responsible for all audio, video and lighting.
"We recently redesigned the entire lighting system in the theater, investing in 36 Color Force 12 units for the house rig," says Josh. "We use them for cyc lighting as well as general stage washes, and without a doubt they are a spectacular fixture."
The Color Force 12 provides power across the spectrum, from deep cold blues to red hot lava looks all from a single fixture. At only 335mm / 1ft long, the unit is ideal for floor, wall or truss mounting. It also provides a massive output of 2,400 lumens, easily washing up to 8m / 26ft with smooth, theatrical grade dimming.
For Nice Work..., which is set in 1920s prohibition America, Josh designed a classic lighting look to capture the feel of the period, rigging a selection of the Color Force 12s just off the floor to accent the large dance routines with around 40 cast members on stage at once.
He also positioned more Color Force 12s as foot lighting, rigged on the stage floor just behind the orchestra pit.
"In the foot lights, I installed the Cyc lens for the fixture to give me beautiful, even lighting," Josh explains. "Lastly, I wanted to create the intimate speakeasy feel for the audience, so we hung more Color Force 12s over the house to add color."
In addition to the house rig fixtures, Josh also specified a further 12 units for other school activities.
"I was so very happy with the way all of my designs came to life and I simply could not have accomplished the goal without the Color Force 12s," adds Josh. "One of the best features of this fixture is definitely the quality of the color mixing. It's also very even, with no hot spots, which makes it easy to use in a variety of applications. The beam spread is also very good, and the addition of the Cyc lens option really allows for use where space is limited."
"Our theater is a very special place," Josh concludes. "I enjoy my volunteer work there because it's a great creative outlet for me and it's important to expose students to professionals in the performance world who can teach them skills they cannot learn in the classroom. Even if they have no desire to go into performing arts or education, they are learning great lessons about teamwork and how to accomplish great things that could not be accomplished were it not for a fantastic and energetic team."
The production was directed by Michelle Holowicki and Phil Johnson, and alongside Josh the creative team included Eric Guerin and Jennifer Yanchula.
The Color Force 12 fixtures were purchased by E2i Design from Chroma-Q North American distributor, A.C. Lighting Inc.
| | | |
| --- | --- | --- |
| | Schedule a Hands-On Demo | |
Schedule a hands-on demo of these exciting new products at your facility. Contact your A.C. Lighting Inc. representative to set a date that meets your schedule:

| | | |
| --- | --- | --- |
| | world class products, world class service | |