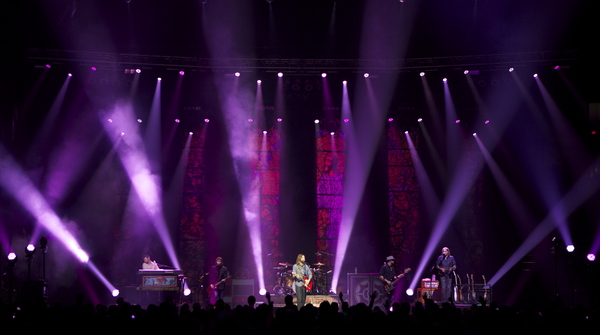 Alabama based Lighting designer Taylor Price used a Jands Vista S3 console, running the next generation Vista v2 software, to control lighting for the recent US tour of Grammy Award winning rockers, Third Day.
Taylor made the switch to the Jands Vista platform while lighting another Grammy award winner, Switchfoot. Their punishing touring schedule meant Taylor was looking for a powerful yet portable control system that could easily travel on a plane. His solution was to join the growing international family of lighting designers who have bought their own Vista system. He's not looked back, and has been an enthusiastic Jands Vista user ever since.
Third Day play a wide variety of venues using a mix of their own touring rig and locally supplied production. On arena shows the Vista S3 was controlling the full touring rig of VARI*LITE 3000 profiles, VARI*LITE 3500 washes, Martin MAC 101's, Martin MAC 301's, Atomic strobes and conventionals, all supplied by Theatrical Media Services (TMS) from Omaha, Nebraska.
For some of the smaller shows, the rig was reduced and integrated with the house system. Taylor was able to simply change fixture types in the patch, giving him the flexibility to run his show on whatever fixture types he had to work with.
The final backdrop of Taylor's high energy, classic "rock and roll" design was a light bulb 'wall' containing 300 standard 60Watt incandescent household bulbs. Vista v2 gave Taylor the tools to effortlessly get the most from this dynamic scenic element with minimal programming time.
Speaking about North American distributor A.C. Lighting Inc, who supplied Taylor's Vista consoles, he commented, "They are absolutely amazing with their support, as are Jands themselves. This is a major selling point for the brand, and gives me real confidence to specify Jands Vista."
VP of sales and marketing at Jands exclusive North American distributor, AC Lighting Inc, Fred Mikeska commented "Taylor is a part of the growing community of designers who want to focus on creating their show, rather than programming their console – after all that is why their clients choose them. Vista v2 offers designers the tools to really get the most from their designs, regardless of the technology they use, by offering the simplicity to work fast with the power to control the finest details."
Jands have recently launched their brand new media and lighting controller – the flagship Vista L5.
To find out more about the Vista L5, and enter a competition to win a MacBook Pro* running the Vista v2 software visit www.jandsvista.com/L5
*Terms and conditions apply. Full details on www.jandsvista.com/L5
*This competition is sponsored by Jands' European and US distributors and is only open to residents of those areas.
The rights and ownership of all trademarks are recognised. The information contained herein is correct at the time of printing, however as we are constantly refining our product range we reserve the right to change the specification without notice. E&OE.
Recent News
News Search