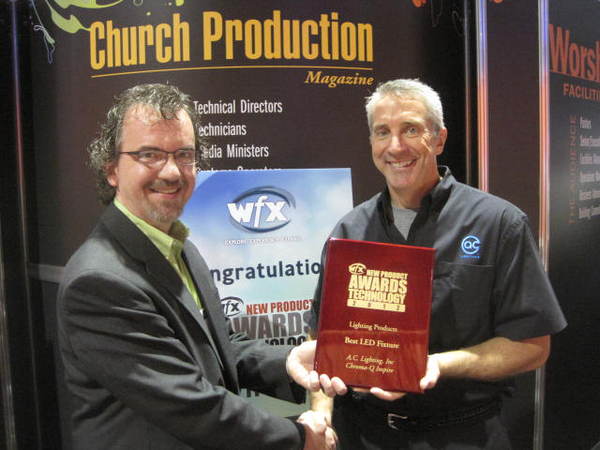 Chroma-Q®'s latest cutting-edge LED lighting innovation, the Inspire™ house light has won two New Product Technology Awards – for 'Best LED Fixture' and 'Best Overall Lighting Product' – at the 2012 Worship Facilities Expo (WFX), held in Atlanta, USA.
The WFX New Product Technology Awards are an integral element of the high profile annual WFX show, and are designed to honor the most innovative and pioneering entertainment technology products for the House of Worship market.
The winners were selected by a panel of Editors from Church Production Magazine, Worship Facilities Management and Worship Facilities Designer Magazine, as well as distinguished members of the WFX Advisory Board and WFX Management.
Designed with the House of Worship market in mind, the Inspire provides worship teams with a truly flexible and creative lighting tool that transcends the physical barrier between the platform and the congregation by enveloping the space in color and helping to connect the parishioners to the message.
As an ideal house lighting solution for most architectural spaces, the Inspire includes features such as ultra-smooth theatrical grade dimming, even at the lowest intensity levels; an incredibly low power consumption of 110W for extreme energy efficiency; three lens options; an excellent range of 'true' whites combined with fully homogenised full color mixing; silent convection cooling, and a high CRI of 90 – all in a single fixture.
The Inspire has the ability to transform a room from traditional white light to a full color mixing effect completely, seamlessly, changing the look, feel and dynamic of the space through the innovative use of color and light, from delicate pastels to bold saturates and beautiful rich whites.,
Other features include DMX-512 connectivity for seamless integration with an existing DMX infrastructure, a camera friendly adjustable 600 – 4,800Hz frequency to avoid camera flicker and an extreme output of 3,900 hot lumens – providing massive amounts of output across the spectrum.
The two high profile WFX Awards were collected on behalf of Chroma-Q by Fred Mikeska, Vice President of Sales & Marketing of exclusive North American distributor, A.C. Lighting Inc.
He commented, "It is a real honor to win these WFX Awards. The Worship market is extremely important to us, which is why we developed a fixture specifically geared towards it. To have the Inspire capture the attention and imagination of the judges is very rewarding."
Chroma-Q and all associated product names are recognised trademarks, for more information visit www.chroma-q.com/trademarks.
The rights and ownership of all trademarks are recognised. The information contained herein is correct at the time of printing, we reserve the right to change the specification without notice. E&OE.
Recent News
News Search