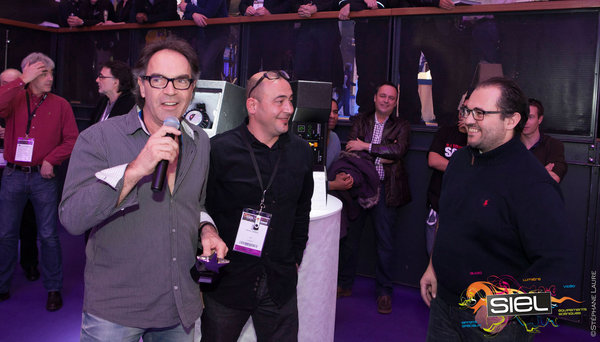 Intelligent LED lighting manufacturer, Chroma-Q® received a prestigious "Les Etoiles du SIEL 2013" award for the new Studio Force V 12 Phosphor™ white lighting fixture at this year's SIEL show in Paris, France.
Utilising the same innovative LED technologies found in the Studio Force™ range, the new Studio Force V 12 Phosphor is a 3,200 – 5,600K CCT, variable white fixture which provides an equivalent soft edge output to a fluorescent unit – up to 6,000 lumens.
Developed specifically for use in TV, film and broadcast studio environments, the Studio Force V 12 Phosphor incorporates fine-tuning of the green and magenta tints and frequency for camera, an extremely smooth uniform wash, extra soft beam, theatrical grade dimming and laboratory calibration to match Black Body Locus.
Selected by the expert judging panel for its innovative linear variable temperature and green / magenta correction abilities, the Studio Force V 12 Phosphor offers new levels of versatility for any studio lighting environment.
Chroma-Q's Global Brand Manager, James Bawn comments "We are absolutely delighted to receive a Les Etoiles du SIEL award…Lots of time and energy went into fine-tuning our phosphor LED technology, so winning an award for innovation in this category is a very rewarding outcome."
The Studio Force V 12 Phosphor is also available in daylight white phosphor (5,600K / 8,000 lumens) and tungsten white phosphor (3,200K / 6,000 lumens) color temperature versions, as well as conventional daylight and variable white models, which are available in compact and batten sizes.
Accepting the award on behalf of Chroma-Q was Alain Cornevaux and Olivier Torres from the company's exclusive French distributor, ESL.
For more information please visit www.chroma-q.com
Chroma-Q and all associated product names are recognised trademarks, for more information visit www.chroma-q.com/trademarks.
The rights and ownership of all trademarks are recognised.
The information contained herein is correct at the time of printing, we reserve the right to change the specification without notice. E&OE.
Recent News
News Search