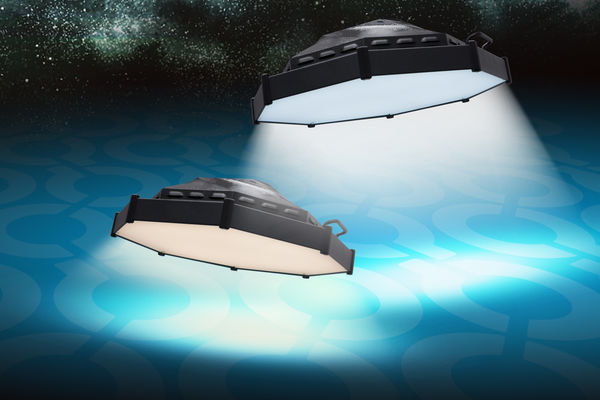 After receiving much interest during its official European tradeshow launch in Frankfurt, Chroma-Q have announced the North American launch at NAB of their new Space Force LED fixture – the next frontier in space lighting – which is shipping now.
The Space Force™ is a cutting-edge variable white LED Space Light that is a modern replacement for conventional space lights or soft light sources commonly used in film and TV studios around the world.
The fixture benefits from cool running, energy efficiency, lightweight design and minimum maintenance.
The Space Force is highly efficient and natively single source, removing the need for skirts or silks to diffuse the light.
As a result of its low profile, lightweight (only 8kg / 17.6lb) and skirt-free design, the fixture is quick and easy to set up at any height.
The Space Force is available as a variable white source, CCT tuneable between 2,800K – 6,300K. Every unit is factory calibrated, to ensure consistent output and colour temperature.
The Space Force uses a fraction of the power required by conventional fixtures, while delivering all of the performance users require – providing an output of up to 26,700 lumens, which is comparable to a traditional 6kW fixture.
Not only is the power consumption lower, so too is the heat produced – ensuring a cooler environment and lower air conditioning costs.
Using the same proven convection cooling technology found in other Chroma-Q® LED models – which eliminates the need for noisy cooling fans – the Space Force provides totally silent running in operation.
The unit utilises LED technology to ensure consistent long life performance – removing the need for costly regular maintenance associated with conventional fixtures.
The Space Force provides high CRI and TLCI values, which are requirements for light sources used in the film and TV industry to ensure accurate colour rendering.
All Chroma-Q products come with theatrical grade dimming, and the Space Force is no exception. This technique emulates the extremely smooth dimming curve of a tungsten fixture, ensuring there is no stepping on the output. This allows the output to be smoothly controlled even at the low end of the dimming curve.
The Space Force features adjustable PWM frequencies to provide flicker-free operation on even the most demanding shoots.
Unlike conventional fixtures, the fixture has on-board power and control electronics – eliminating costly power cables and the need for dimmer racks.
Control of colour temperature and intensity is available via DMX wired, the optional LumenRadio CRMX wireless, or locally via the onboard encoders.
The Space Force features multiple mounting options. In addition to a built-in standard bridle and suspension hanger brackets for stacking multiple units together, optional accessories include a manual yoke and a low-profile hanging bracket.
For real versatility, the unit is available with a range of optional accessories, including a black mini skirt, soft egg crate, cyc skirt / silk, soft target kit, and a soft lantern. In addition, the optional LumenRadio connectivity is also available as a user-installed accessory, for retro-fitting if required at a later date.
The Space Force further extends and complements Chroma-Q's comprehensive range of award-winning LED studio lighting solutions.
The Chroma-Q range of premium performance solutions is designed and built to exacting standards in North America, and has been adopted by many leading designers and specifiers for some of today's most demanding and prestigious lighting applications. As a result of this, the brand has received awards from several industry associations.
Get your demonstration of the Chroma-Q Space Force and other models at the NAB Show, Las Vegas, USA, April 18th – 21st, on the booth of North American distributor, A.C. Lighting Inc. (C11319) – and at the following upcoming tradeshows:
PLASA Focus Leeds – Royal Armouries, Leeds, England, 10th – 11th May
Stand N-E02, (Dealer, A.C. Entertainment Technologies)
Cine Gear Expo 2016 – Los Angeles, USA, 3rd – 4th June
Booth S120, (Distributor, A.C. Lighting Inc.)
InfoComm 2016 – Las Vegas, USA, 8th – 10th June
Booth C4852, (Distributor, A.C. Lighting Inc.)
ABTT 2016 – Alexandra Palace, London, England, 22nd – 23rd June
(Dealer, A.C. Entertainment Technologies)
Alternatively, to arrange a demo or for details of the nearest Chroma-Q open house events, contact:
(North American Sales Enquiries)
A.C. Lighting Inc.
Tel: +1 416 255 9494
northamerica@aclighting.com
(International Sales Enquiries)
A.C. Entertainment Technologies Ltd.
Tel: +44 (0)1494 446000
international.sales@ac-et.com
Or for more information and to find your nearest reseller, visit www.chroma-q.com.
We're now social. Follow us on Facebook – www.facebook.com/chromaq.lighting – for the latest Chroma-Q breaking news, user application stories, competitions & other fun stuff.
Chroma-Q and all associated product names are recognised trademarks, for more information visit www.chroma-q.com/trademarks. The rights and ownership of all trademarks are recognised. Whilst every effort has been made to ensure that the information is correct, Chroma-Q accepts no liability for errors or omissions. Technical specifications and data are provided for guidance only. Because we constantly aim to improve our products, we reserve the right to amend or alter at any time and without prior notice, the specifications of any product. E&OE.
Recent News
News Search