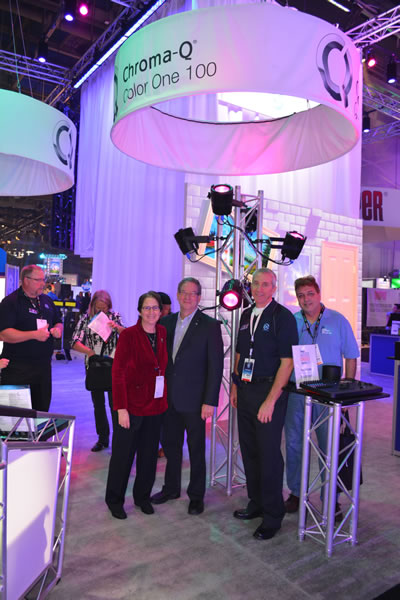 The Chroma-Q premium performance lighting brand's North American and UK resellers are showing their support for the industry by making a contribution to highly deserving industry charity, Behind the Scenes, for every Chroma-Q Color One 100 LED Par sold.
The PLASA (formerly ESTA) Foundation's Behind the Scenes charity has been assisting industry members in North America since 2006, providing financial assistance to entertainment technology professionals, or their immediate family, who are seriously ill or injured.
Originally modelled on the UK-based Light Relief charity, Behind the Scenes was recently extended to cover the UK entertainment technology industry as well, and brings Light Relief under its umbrella.
Under the charity's Pledge a Product programme, Chroma-Q™ North American master distributor, A.C. Lighting Inc., will make a contribution for every Color One 100 sold in their territory. In addition, UK sister company, A.C. Entertainment Technologies (AC-ET) Ltd., will make a contribution for every Color One 100 they sell.
"The Pledge a Product programme is extremely important to Behind the Scenes because it provides ongoing sources of revenue that give the assurance we will be able to continue helping our colleagues in need. We are very grateful and thrilled that A.C. is our newest partner" stated Rick Rudolph, Chair of the PLASA Foundation.
The new Chroma-Q Color One 100 LED Par is manufactured in North America. It was recently showcased to much praise at the LDI show in Las Vegas, USA, and the PLASA London show, UK.
Ideal for a wide range of applications, the fixture features an innovative fully homogenised beam which virtually eliminates the color separation and shadows synonymous with LED lighting – delivering above Par performance from ONE source.
Other features include an extensive RGBA colour-mixing palette which delivers cold blues, red-hot lava looks and super-soft pastels, all from ONE source; an extremely smooth, uniform wash and defined 20° beam; theatrical grade dimming; convection cooling for near-silent operation; a versatile mounting yoke; and a choice of IP20 / IP65 models.
The Chroma-Q range of premium performance solutions is designed and built to exacting standards in North America, and has been adopted by many leading designers and specifiers for some of today's most demanding and prestigious lighting applications – including opera, theatre, TV, venues, touring, events, or other sectors. As a result of this, the brand has received awards from several industry associations.
To arrange for your Chroma-Q Color One 100 product demonstration, or discuss your requirements, please contact:
(North American Master Distributor)
A.C. Lighting Inc.
Tel: +1 416 255 9494
northamerica@aclighting.com
(UK Dealer)
A.C. Entertainment Technologies Ltd.
Tel: +44 (0)1494 446000
sales@ac-et.com
Or for more information and to find your nearest reseller, visit www.chroma-q.com.
Photo 1 Credit: Chroma-Q Color One 100 launch & support pledged for the Behind the Scenes charity at LDI 2014, Las Vegas. Pictured (left to right) – Lori Rubinstein, PLASA Foundation. Rick Rudolph, PLASA Foundation / Stage Equipment & Ltg. Fred Mikeska, A.C. Ltg Inc. Curt Contrata, Stage Equipment & Ltg.
We're now social. Follow us on Facebook – www.facebook.com/chromaq.lighting – for the latest Chroma-Q breaking news, user application stories, competitions & other fun stuff.
Recent News
News Search