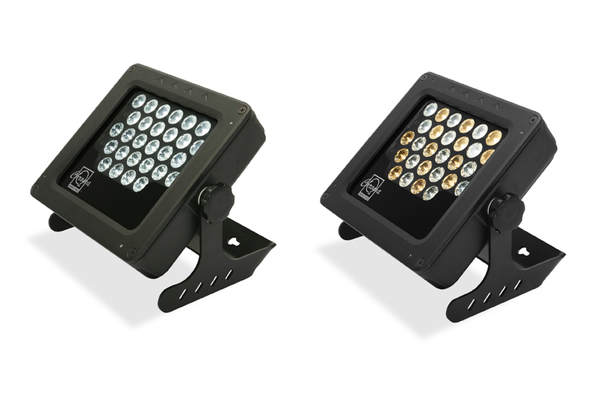 The Chroma-Q® Studio Force™ white LED lighting range has been extended with new Studio Force Compact™ daylight white and variable white cost-effective, slim profile, workhorse fixtures. Together with the existing lineup, the Studio Force range now provides a full choice of creative lighting tools.
Utilising core technology from the white LED range, the Compact is available in a choice of 6,100K CCT, daylight white (Studio Force D Compact) and 3,000K – 6,100K CCT, variable white (Studio Force V Compact) models – the latter featuring 3200°K and 5600°K laboratory calibrated presets.
With an extreme output of 2,800 lumens (D Compact) / 2,600 lumens (V Compact) – providing at least 50% more white light output than their Color Force RGBA color variants – and at only 212mm / 8.4" in length, the fixtures are ideal for evenly washing large areas with a very small footprint.
Featuring a rugged external design and IP65 rated* casing, the multi-purpose workhorse fixtures are specifically designed for TV, film, touring, exhibitions, corporate events and theatre lighting applications – including uplighting, pipe-end shin-busting, backlighting, wash applications and truss warmers.
Up to five fixtures can be daisy-chained from each 15-way Compact PSU output, eliminating the need to home-run a cable from each fixture back to the PSU. In addition, up to four fixtures per output can be daisy-chained on a Chroma-Q Color Block PSU (PSU-05B, PSU530).
The Studio Force Compact models enable an even wider range of users and budgets to utilise the power of the Studio Force as a creative lighting tool.
The Studio Force range's camera-friendly custom optical design provides a smooth, uniform output matched by theatrical grade dimming.
For real versatility and compatibility with existing lighting inventories, the models are compatible with City Theatrical top hat, half top hat, egg crate louver and barn door accessories. The fixtures are supplied with a holder for these four optional accessories, as well as interchangeable clear and frosted glass light lenses. An optional W-DMX wireless accessory for the 15-way Compact PSU is also available.
For more information, please visit www.chroma-q.com or email sales@chroma-q.com
Chroma-Q and all associated product names are recognised trademarks, for more information visit www.chroma-q.com/trademarks
The rights and ownership of all trademarks are recognised. The information contained herein is correct at the time of printing, however as we are constantly refining our product range we reserve the right to change the specification without notice. E&OE.
Recent News
News Search