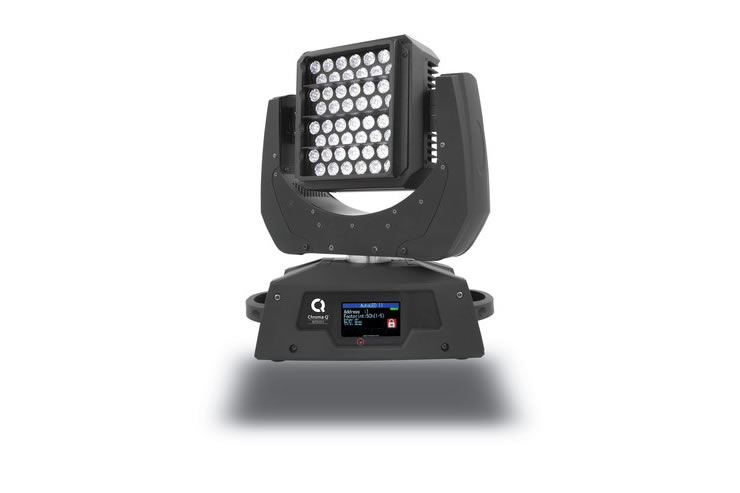 Utilising the same core technologies as the innovative Chroma-Q® Studio Force D XT 12™, the new AutoLED II™ is a 6,500K* CCT daylight white LED moving head fixture that boasts an extreme 16,430 hot lumens output for ultra bright, long distance throw; an optional revolutionary beam shaper that enables you to vary the beam angle, a built in louver to avoid glare, a high CRI and a smooth linear dimming curve.
Specifically designed for providing precise daylight illumination of motor industry tradeshows, fashion events and retail environments, the AutoLED II incorporates DMX control, allowing it to be operated from any DMX enabled lighting console.
Utilising the very latest generation of LEDs and optics, the AutoLED II offers an ultra bright output of 16,430 lumens – providing precise daylight illumination for a wide range of event lighting applications including key-lighting, uplighting, backlighting, wash applications and effects.
Featuring a camera friendly custom optical design, the AutoLED II provides a smooth, uniform output, matched by theatrical grade dimming.
Utlising Chroma-Q's latest LED technologies, the AutoLED II has an extremely low power consumption of 280 watts, offering a significant return on your investment with its high energy efficiency compared to conventional discharge fixtures. In addition, there are no lamps to degrade and replace over time.
On the outside, the AutoLED II has been designed to provide maximum versatility and ease of use. The built-in power supply and 5-pin DMX connectors in and out provide fast deployment and simple cable management – as well as allowing for remote focusing and fixture adjustment.
Including 16-bit pan & tilt movement, the AutoLED II allows you to fine-tune your beam placement via DMX control for extremely accurate positioning – saving you the time and manpower needed to manually focus conventional discharge fixtures.
The AutoLED II comes supplied with a louver accessory. A revolutionary beam shaper lens plate – custom developed by Chroma-Q for remote control of beam angle adjustment – is also available as an optional accessory.
For more information please visit http://www.chroma-q.com
*Preliminary values
Chroma-Q and all associated product names are recognised trademarks, for more information visit www.chroma-q.com/trademarks.
The rights and ownership of all trademarks are recognised. The information contained herein is correct at the time of printing, we reserve the right to change the specification without notice. E&OE.
Recent News
News Search