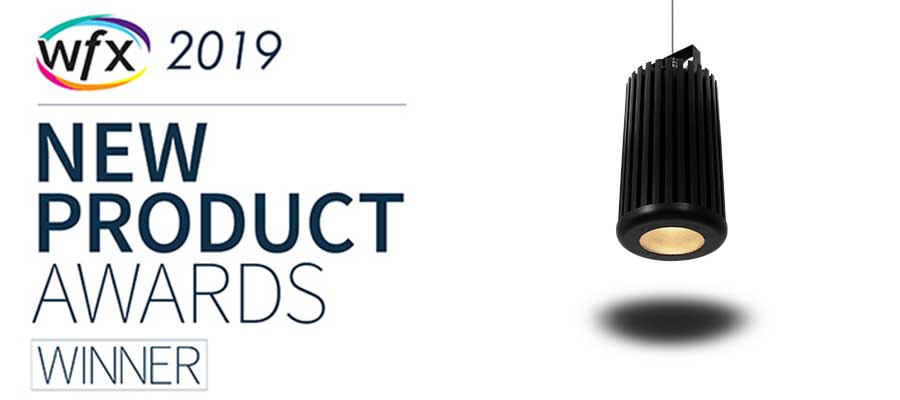 Featuring built in power supply using existing dimmer systems
Chroma-Q® was honored to accept the 2019 WFX New Product Award for the Inspire MD™ LED house light during the WFX Conference and Tradeshow in Orlando, Florida.
"This house light is a unique addition to the Inspire family." comments Paul Pelletier, Global Brand Manager for Chroma-Q. "Not only is the Inspire MD a powerful lighting fixture for your House of Worship or anywhere dimmable LED's are needed, but it also saves energy, which ultimately saves you money."
The energy-efficient Inspire MD™ house light is a powerful LED replacement for conventional tungsten fixtures connected directly to a traditional dimming system. This fixture provides a beautiful warm white, with high CRI, a fully homogenized lens, and a choice of three beam angles. Inspire's energy-efficient LED design reduces maintenance and running costs, with up to 80% energy saving.
< Less consumption
> Greater color rendering
= Same infrastructure
< Less heat
> Greater dimming
Based on the Inspire Family features, this innovative fixture has an extremely smooth, uniform wash, theatrical dimming, and is cooled by silent convection.
The Inspire MD™ is a multi-purpose fixture, suitable for a wide range of applications, especially the House of Worship market. Using proprietary Chroma-Q technology ensures a smooth dimmer curve from 0-100 on standard dimming systems.
The initial release of the Inspire MD™ 120V/60Hz is targeted for the North American Market. A 240V/50Hz version is currently in development.
"It was an honor to accept the award on behalf of Chroma-Q." remarks Fred Mikeska, Vice President of Sales for A.C. Lighting Inc. "Chroma-Q is always setting it's sights high and engineering award-winning products that the house of worship markets have come to rely on."
To learn more about Chroma-Q, please visit our website www.chroma-q.com
---
Chroma-Q and all associated product names are recognised trademarks, for more information visit www.chroma-q.com/trademarks. The rights and ownership of all trademarks are recognised. Whilst every effort has been made to ensure that the information is correct, Chroma-Q accepts no liability for errors or omissions. Technical specifications and data are provided for guidance only. Because we constantly aim to improve our products, we reserve the right to amend or alter at any time and without prior notice, the specifications of any product. E&OE.
About Chroma-Q
Chroma-Q® has been designing lighting equipment since the mid 1990s, when they established a reputation for high product quality, innovation and reliability with hugely successful products such as the Original colour changer.
In 2004 Chroma-Q launched their first LED fixture, the Color Block DB4™ – a product so popular that it's still selling today in a newer incarnation with upgraded technologies.
Since then, Chroma-Q have a gained a reputation for introducing award-winning, premium LED lighting solutions which deliver the highest performance levels required by today's most demanding applications – including concerts & theatre shows, film & TV broadcasts, retail, leisure & museum installations, exhibitions & corporate hospitality events.
Chroma-Q have an equally impressive track record developing a range of lighting colour changers, effects, gobo rotators, and various control & data distribution products.
Recent News
News Search