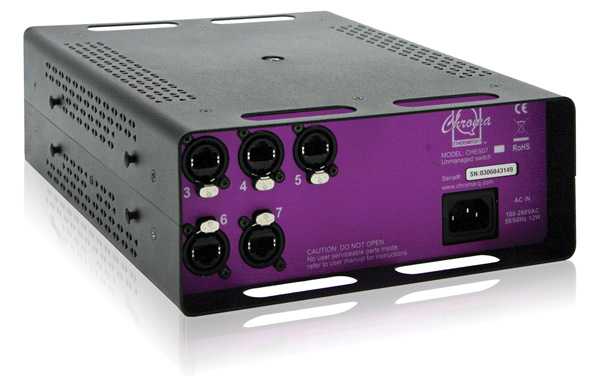 The Chroma-Q® range of professional lighting products and accessories has been extended with the launch of the Magic Box™ EtherSwitch 7™, a touring grade, high quality Gigabit Ethernet switch that supports simultaneous computer connections.
Housed in the rugged-design Magic Box enclosure, the EtherSwitch 7 is equipped with seven shielded EtherCon ports (RJ45) providing 10 / 100 / 1000 Mbps bandwidth in full duplex mode. This stand-alone unit enables the concurrent use of various multimedia devices within a network without traffic restrictions.
In addition, there is the new EtherSwitch 7F™ which is equipped with all the features of the EtherSwitch 7 plus a fibre link via a Neutrik OpticalCon connector. It provides guaranteed rock solid connections up to 550m / 1800ft and is ideal for front of house looms and other situations where extreme reliability is required. The EtherSwitch 7 can be upgraded at an additional cost with a retro-fitted fibre link, to meet customers' changing production requirements.
The unique Chroma-Q Magic Box interlocking enclosure facilitates easy rack mounting when used in single units or pairs and easy truss mounting via a captive nut insert. Rack mounting brackets are available in single unit and dual unit versions, enabling users to customise their equipment rack or installation by mixing and matching different Magic Box interfaces.
Chroma-Q , Magic Box, EtherSwitch 7 and EtherSwitch 7F are trademarks of A.C. Entertainment Technologies Ltd. The rights and ownership of all trademarks are recognised. The information contained herein is correct at the time of printing, however as we are constantly refining our product range we reserve the right to change the specification without notice. E&OE.
Recent News
News Search