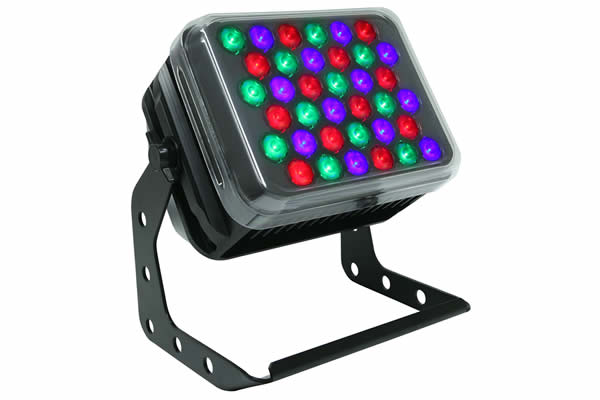 The Chroma-Q™ LED range has been extended with the launch of the new Color Punch™ – a compact IP65 fixture delivering bright washlight results suitable for a wide range of indoor and temporary outdoor applications.
The Color Punch is extremely powerful for its small dimensions, providing a very punchy 1250 lumens output housed in an IP65 rated, tough machined aluminium and high impact plastic casing. The fixture also features convection cooling for completely silent operation in theatres and other noise-sensitive lighting environments.
The unit features a single LED head of RGB cells and a 22° beam angle for an even coverage of surfaces. In addition to RGB and Fx HSI (Effects, Hue, Saturation and Intensity) control modes, the Color Punch also features a 5 channel strobe RGBI mode for separate adjustment of the fixture's intensity level, and a mode for selecting stored looks via DMX.
For ease of use, the Color Punch has a built-in power supply and a choice of standalone or DMX-control, making setup very quick and simple.
The Color Punch comes supplied with a versatile yoke attachment, enabling units to be floor, truss or wall mounted to provide blinders, footlights, side fills, truss toners and discreet set piece lighting – all from just a single fixture. An optional clip on lens media cover accessory is also available.
From TV to theatre and touring to temporary outdoor events, the Color Punch provides a bright, extremely versatile and easy to use washlight that is ideal for lighting designers and rental companies requiring an all-purpose fixture.
Recent News
News Search