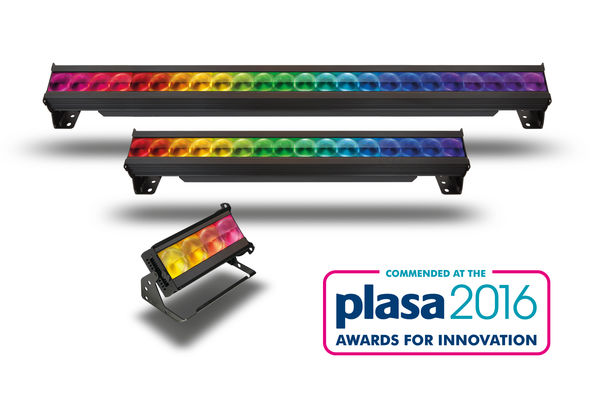 Chroma-Q launched their game-changing new Color Force II range of professional LED luminaires at PLASA 2016 to much interest from visitors. The product received a special commendation at the show's Awards for Innovation – with judges praising the fixtures' notable evolution from the original Color Force range.
After Color Force™ revolutionised the lighting market six years ago, the next generation Color Force II™ range utilises the very latest fully homogenised optics to deliver a superior single colour blend with no unsightly colour mixing shadows, even higher quality saturates and pastels, a purer white, and at least 50% more output.
Designed for shows and events requiring the highest level of technical and artistic performance, other benefits shared across the Chroma-Q® lighting portfolio include exceptional colour consistency fixture-to-fixture and batch-to-batch, theatrical grade dimming, and ultra-quiet operation.
Receive your personal demonstration of the Color Force II range at LDI 2016 on booth #2252, or visit www.chroma-q.com to find your nearest reseller / call +44 (0)1494 446000.
www.facebook.com/chromaq.lighting
Color Force II Patents Pending.
Chroma-Q and all associated product names are recognised trademarks, for more information visit www.chroma-q.com/trademarks. The rights and ownership of all trademarks are recognised. Whilst every effort has been made to ensure that the information is correct, Chroma-Q accepts no liability for errors or omissions. Technical specifications and data are provided for guidance only. Because we constantly aim to improve our products, we reserve the right to amend or alter at any time and without prior notice, the specifications of any product. E&OE.
Recent News
News Search