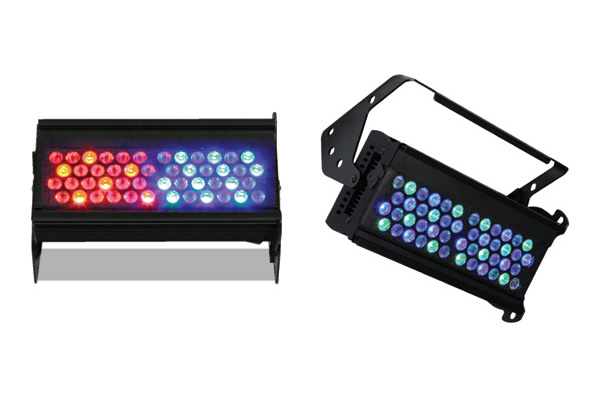 The Chroma-Q® Color Force™ LED lighting range has been extended with the launch of the new Color Force 12, a truly a multipurpose fixture that is suitable for numerous entertainment lighting disciplines.
Part of the new generation of Chroma-Q LED models, the Color Force 12 provides the feature set of the Color Force LED battens range in a compact, all-purpose version that is ideal for floor, wall or truss mounting. At only 300mm / 1ft long, the unit's very small footprint is suitable for pipe end, shin buster and wash applications.
The fixture can also be used to extend Color Force 48 and 72 LED batten installations, with minimal distance between fixtures and a massive output of 2,400 lumens for seamless wall washing up to 8m / 26ft.
The Color Force 12 uses its huge RGBA colour mixing palette to deliver a full range of high brightness colours for power across the spectrum, from deep cold blues to red hot lava looks all from a single fixture. With a huge choice of both vivid saturates and subtle palette colours, the Color Force 12 is ideal for designers or rental and production companies looking to invest in a single fixture solution for theatre, concert touring, corporate event, exhibition and TV lighting applications.
The Chroma-Q RGBA engine has been developed to deliver an incredible CRI of 92, for true colour balance across the gamut. In addition, ColorSure™ technology ensures enhanced colour consistency across the two independently controlled cells and when using multiple fixtures.
The Color Force 12 fixture's custom optical design produces an extremely smooth, uniform output with outstanding colour blend. Combined with separate discreet RGBA LEDs used for increased efficiencies, the unit delivers surprisingly clean shadows for most common real world applications.
Theatrical grade dimming and a high CRI for extremely accurate colour rendition and a clean white ensures the light output feels just right. Combined with LED lighting's instant strobe-like control of intensity, the unit offers exceptional all-round flexibility.
In everyday use the Color Force 12 is roughly comparable in output and cost to a 750W PAR fixture with colour changer and dimmer channel. With a 50,000 hour L70 lamp life and only 120W power usage when running at full power (less at a colour), the ongoing financial savings of the fixture are huge. It is anticipated that the Color Force 12 will actually pay for itself within 13,500 hours of use.
Featuring a choice of HSI, RGB, RGBA, RGBI and StRGBA DMX modes, compatibility with industry standard control consoles is assured. In addition, a comprehensive built-in effects engine and stand-alone Master and Slave modes provide dynamic looks and additional usage possibilities.
On the outside, the Color Force 12 has been designed to provide maximum versatility and ease of use. The built-in power supply, hidden quick release fixings requiring no tools, and mains power / DMX in at one end and out the other provide fast deployment and simple cable management. The fixture also features a rugged yet lightweight aluminium body.
The full Chroma-Q LED range will be on display at PLASA 2010 (Stand 1-E11). For more information, please visit www.chroma-q.com or email sales@chroma-q.com
For a full list of Chroma-Q trademarks and disclaimers click here
The rights and ownership of all trademarks are recognised. The information contained herein is correct at the time of printing, however as we are constantly refining our product range we reserve the right to change the specification without notice. E&OE.
Recent News
News Search