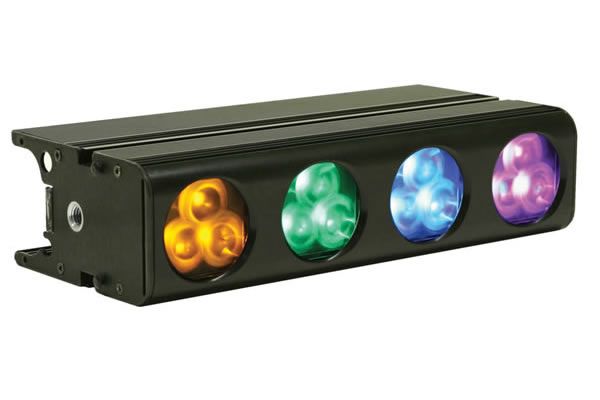 Following the enormous success of the Chroma-Q® Color Block™ LED fixture with rental companies and end users alike, the manufacturer has combined the product's core elements of modularity and versatility with new single colour RGBA optics, 530 lumens output (almost double the original model) and theatrical grade dimming to create the exceptional feature set of the Color Block 2™ fixture.
With its radically increased colour palette and high CRI of 90, the Color Block 2 fixture is a master at creating vibrant bold colours and subtle theatrical hues. Combined with its built-in variable colour temperature capability, even flesh tones look natural, satisfying all but the most critical eye.
The four large, camera-friendly LED cells offer performers less glare and mix beautifully for single colour output, virtually eliminating the frustrating colour separation shadows normally synonymous with LED lighting. The beam optics have a soft asymmetrical quality carefully crafted to give an immediate perfect colour blend for uplighting surfaces, yet retain a soft Fresnel-like edge for direct illumination. At close to twice the output of its predecessor, the Color Block 2 fixture is bright enough to uplight a 6m set and then some.
In addition, the fixture provides a smooth, theatrical grade dimming experience, whilst retaining the instant strobe-like control of intensity normally associated with LED technology.
The Color Block 2 fixture offers a cutting-edge new feature set, yet it retains the original model's modularity and wide range of fixing options, making it even better value.
To be amongst the first customers to see the Color Block 2 fixture in action, contact Chroma-Q distributor A.C. Entertainment Technologies Ltd. for a free demonstration.
Recent News
News Search