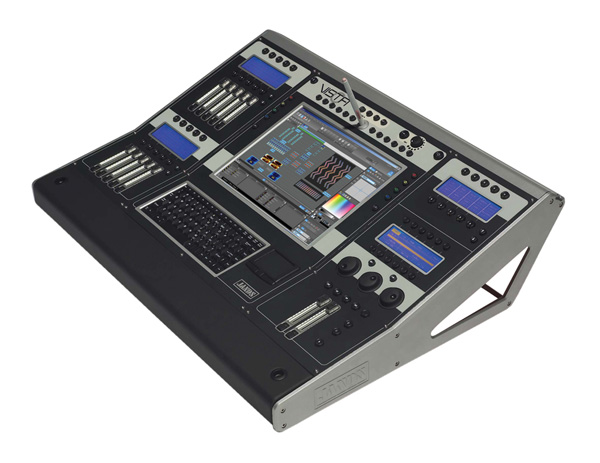 The A.C. Lighting Inc. booth at the WFX Atlanta 2010 show will feature next generation Worship lighting technologies from the Chroma-Q® and Jands product ranges exclusively distributed by the company in North America alongside the manufacturers' past WFX New Product Awards winners (Booth 609).
Attracting much interest at other tradeshows, the booth will feature a side by side demo of the Chroma-Q Color Force™ LED washlight range alongside traditional tungsten lighting. The lineup includes the new Color Force™ 12, a compact yet extremely bright (2,400 lumens) multipurpose LED fixture that is ideal for floor, wall or truss mounting. At only 1ft long, the unit's very small footprint is suitable for pipe end, shin buster and wash applications.
The Color Force 12 can also be used to extend installations of the Color Force 72 / 48 LED battens. Featuring 12,000 / 8,000 lumens output, the super bright 6ft / 4ft units provide an extremely smooth, uniform coverage for washing areas up to 26ft high. All models are also available in Daylight Force™ 5600K CCT White LED versions with output up to a staggering 48,000 lumens.
Other Color Force range features include a huge RGBA full color palette capable of deep cold blues and red hot lava looks in a single fixture, CRI of 92, independently controlled cells, theatrical grade dimming and an extremely smooth, uniform wash.
Also showing is the new Chroma-Q Color Charge™, a 600 lumen, rechargeable battery powered, ultra portable LED light source which combines wireless control with an environmentally friendly NiMH battery and interchangeable head design.
Past WFX New Product Awards winners, the Chroma-Q Color Span™ custom configurable LED fixture and Chroma-Q Color Split™ LED fixture, will also be on display. For more information visit www.chroma-q.com
The booth will also feature a preview of the latest beta version of the V2 'Byron' software for the revolutionary Jands Vista lighting control range. Another past WFX New Product Awards winner, Jands has refined the best elements of the Vista as well as introducing a host of new features to make it even faster and even easier to use, whilst retaining the volunteer-friendly simplicity which has made the console such a hit in the worship market. Re-building the software from the ground up, the new Vista V2 'Byron' software is a whole new platform which takes the Vista's core idea of 'think visually, work visually' to the next level. For more information visit www.jandsvista.com
In addition to aforementioned products exclusively distributed in North America by A.C. Lighting Inc., the company carries a vast stockholding of the latest stage, studio and event worship lighting products, accessories and consumables. This choice of on-the-shelf products is coupled with competitive prices and the highest level of service and support.
All Chroma-Q LED products are licenced by Color Kinetics. Chroma-Q and all associated product names are recognised trademarks, for more information visit www.chroma-q.com/trademarks. The rights and ownership of all trademarks are recognised. The information contained herein is correct at the time of printing, however as we are constantly refining our product range we reserve the right to change the specification without notice. E&OE.

Recent News
News Search