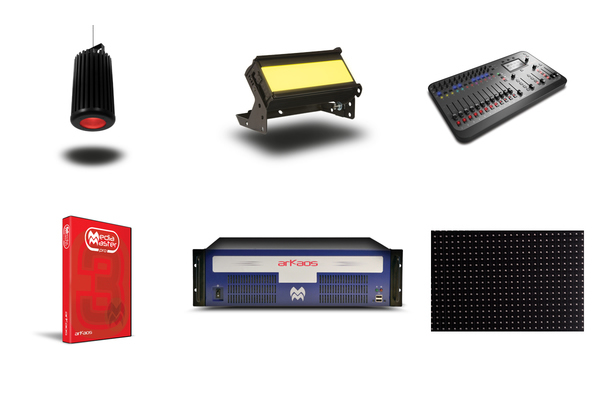 A.C. Lighting Inc. will be showcasing the latest technology innovations from a selection of the leading brands which it distributes in North America, including new products from Chroma-Q®, Jands, ArKaos and LedGo – at the 2012 LDI show in Las Vegas, Nevada (stand #2007).
Chroma-Q
Following the unveiling of Chroma-Q's fresh and modern new brand look, the company is proud to introduce its latest range of cutting-edge LED lighting technology products – the Studio Force Phosphor™ family, which was recently nominated for a PLASA Award for Innovation.
Showing exclusively at booth #2007, the Studio Force Phosphor range utilizes innovative LED technologies to provide an equivalent soft edge output to a fluorescent fixture – up to 8,000 lumens – developed specifically for use in TV, film and broadcast studio environments.
There's a choice of standard daylight (5,600K) white and variable (3,200 – 5,600K) white color temperature versions, with the variable version offering fine tuning of the green and magenta tints.
Also on show from Chroma-Q is the brand new, award-winning Inspire™ LED house light. Fusing entertainment, theatrical and architectural lighting capabilities, the Inspire was designed to seamlessly transform the look and feel of a performance venue, themed retail space or house of worship.
With fully homogenized color mixing and a choice of three different lens options, the Inspire provides an excellent selection of stunning mixed colors and 'true' whites, with no unsightly color separation shadows.
Whether used in an entertainment, architectural or house of worship context, the Inspire provides designers with a tool to create environments that transcend the physical barrier between the venue space and its audience through the creative use of light and color. With Inspire, effects can range from a subtle shift in color temperature, to bold and dynamic color changes.
Jands
New from Jands and showing exclusively on booth #2007 is the innovative Stage CL console. The Stage CL is an entry level, self contained console that has been specifically "made for LEDs". Designed to offer the simplicity of a generic fader desk for both static LEDs and dimmers, the Stage CL includes intuitive color control via a pair of Hue/Saturation encoders above each fader, as well as offering a selection of quick and easy to use pre-set color swatches and lighting scenes via its LCD touch screen interface.
Ideal for a wide-range of applications including corporate events, houses of worship, community theatre, retail displays, night clubs, weddings and parties – the Stage CL offers a simple and easy to use "out of the box" LED control system for anyone who has adopted LED technology, regardless of technical skill and ability.
ArKaos
Following the recent appointment as ArKaos' exclusive North American distributor, A.C. Lighting Inc. will be debuting the brand new ArKaos MediaMaster Pro 3.0 and the exciting new Stage Server.
MediaMaster Pro is ArKaos' revolutionary new video mapping software, which is capable of turning any powerful computer into a fully fledged media server. The ArKaos Video Mapper – an extension for MediaMaster Pro – allows easy mapping of video onto irregularly shaped surfaces and through multiple outputs. Designed to let you set-up mapping projects in very short time frames, Video Mapper makes it incredibly simple to flow visuals around complex objects with just a few clicks.
The Stage Media Server provides an ideal combination of scalability and creativity at an unbeatable price. Suitable for a variety of applications, the Stage Media Server is the perfect turnkey solution for seamlessly running real-time video shows for worship, entertainment, theatre and audio-visual applications.
Engineered to ensure rugged reliability and designed for quick and easy set-up, the Stage Server allows full DMX control via users' favorite lighting console. The Stage Server ships standard with MediaMaster Express
LedGo
On show from LedGo will be their range of high-quality modular LED video panels. Brilliantly engineered and incorporating robust hardware and components, LedGo video panels deliver incredible video performance at economical prices.
On display will be the 6mm, 10mm and 15mm resolutions, which all feature easy 'Rig and Click' hardware for quick assembly and very high refresh rates by using the latest LED drivers to avoid flickering on cameras.
In addition to aforementioned products distributed in North America by A.C. Lighting Inc., the company supplies a portfolio of leading-brand entertainment lighting products and accessories. This choice is coupled with competitive prices and the highest level of service and support.
Chroma-Q and all associated product names are recognised trademarks, for more information visit www.chroma-q.com/trademarks.
The rights and ownership of all trademarks are recognised. The information contained herein is correct at the time of printing, however as we are constantly refining our product range we reserve the right to change the specification without notice. E&OE.
Recent News
News Search