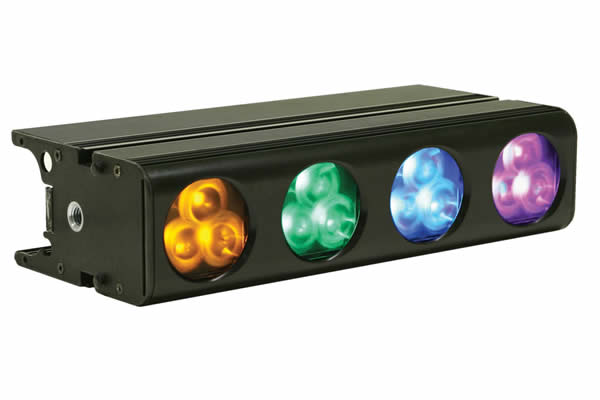 The A.C. Lighting Inc. booth (1453) at InfoComm 2009 will feature the latest range of innovative and award-winning LED technologies exclusively distributed by the company in North America. Products on show for the first time at InfoComm include the Chroma-Q® Color Block 2™ LED fixture and Magic Box™ EtherSwitch 7™ Ethernet switch. Other technologies include the Color Web LED video effects display, the Jands Vista control system, the Artistic Licence Art-Net range of Ethernet solutions and the D.T.S. Delta 7 RGB LED moving light.
Following the enormous success of the Chroma-Q Color Block™ LED fixture, the manufacturer has combined the product's core elements of modularity and versatility with an exceptional second generation feature set to create the new Color Block 2 fixture. The improved feature set includes camera-friendly, single color output RGBA LEDs; theatrical grade dimming; 530 lumens output (almost double the original model); a radically increased color palette and a color rendition index (CRI) of 90.
The new Chroma-Q Magic Box EtherSwitch 7 is a touring grade, high quality Ethernet switch that supports simultaneous computer connections. The EtherSwitch 7 is equipped with seven shielded EtherCon ports (RJ45) providing 10 / 100 / 1000 Mbps bandwidth in full duplex mode. This stand-alone unit enables the concurrent use of various multimedia devices within a network without traffic restrictions. The EtherSwitch 7F™ features an additional fibre link via a Neutrik OpticalCon connector. This provides guaranteed rock solid connections up to 550m / 1800ft and is ideal for front of house looms and other situations where extreme reliability is required.
Designed and manufactured by Artistic Licence, the Chroma-Q Color Web is a cost-effective multi-purpose LED solution for displaying low resolution still or moving video content over large areas. Featuring modular, semi-transparent 3'3″ square panels in a choice of 5″ (Color Web 125) and 10″ (Color Web 250) LED cell pitches, it can be easily re-configured to fit almost any display area and double hung or multi-layered at distances. It's also extremely compact and lightweight, making it easy to rig and transport. The Color Web 250 is ideal for smaller budgets, whereas at double the resolution per square foot, the Color Web 125 offers increased flexibility and improved results for displaying more detailed video content.
Other Chroma-Q LED products featured include the award-winning Color Split™ fixture for creating innovative 'split color' effects from a single unit; the Color Punch™ fixture for a 'punchy' light output from an extremely compact unit; and the award-winning Color Span™, a configurable, low profile, ultra bright LED unit for indoor / outdoor wall wash, cove, effects and feature lighting applications.
Also on display is a selection of models from the award-winning Jands Vista lighting console range. Featuring an intuitive visual interface, innovative timeline editing function and generic fixture control, the Vista is fast and simple to use. In addition, the control system is ideal for both DMX and Ethernet-based video, lighting and media server equipment. The range includes a choice of all-in-one consoles and computer-based hardware options which turn a Windows or Mac OSX based laptop into a lighting console.
As networking requirements for entertainment technology applications continue to increase, many of the leading control companies, such as Jands, are supporting the Art-Net product range. Developed by Artistic Licence, this TCP/IP based communication protocol can co-exist on the same cable with most proprietary protocols. Art-Net is readily available in the public domain on a royalty free basis and is supported by a host of manufacturers. A.C. Lighting Inc. supplies the complete range of Artistic Licence Art-Net Ethernet solutions, which are the perfect complement to lighting control products such as the Jands Vista.
In addition, A.C. will be showing the latest LED fixture from D.T.S. Lighting, the ultra bright Delta 7 RGB. With 108 individual P4 LEDs, the Delta 7 RGB offers up to 3 times the brightness of earlier D.T.S. LED fixtures. Other models available include the Delta RGB Full Color range featuring 40 full color (not separate RGB) LEDs, which virtually eliminate the frustrating color separation shadows normally synonymous with LED lighting.
As well as the aforementioned products exclusively distributed in North America by A.C. Lighting Inc., the company carries a vast stockholding of LED lighting products, accessories and consumables. This choice of on-the-shelf products, coupled with the international "A.C. Group's" volume purchasing power, ensures that customers receive competitive prices and the highest level of service and support.
All Chroma-Q LED products are licensed by Color Kinetics. Chroma-Q, Color Block, Color Block 2, Color Span, Color Split, Color Punch and Color Web are trademarks of A.C. Entertainment Technologies Ltd. The rights and ownership of all trademarks are recognised.

Recent News
News Search