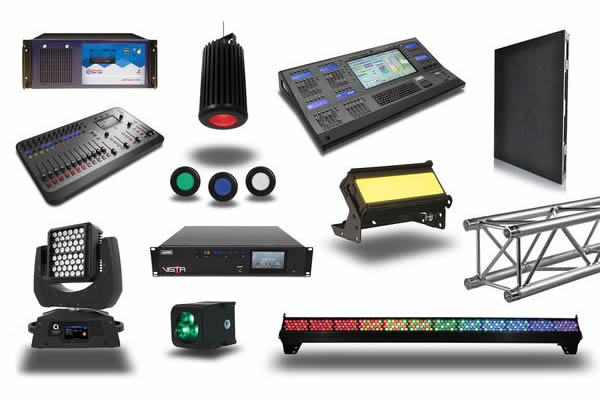 A.C. Lighting Inc, a leading provider of cutting-edge professional equipment to the entertainment industry, will showcase at LDI 2013 (on booth 1833) a selection of the very latest Chroma-Q® and Jands lighting innovations, plus ArKaos and LedGo video solutions, exclusively available from the reseller in North America. Key staging solutions from Prolyte will also be represented.
Product highlights from the Chroma-Q® premium performance lighting range include the soon-to-launch Inspire Mini™ RGBW color-mixing LED house light; the new DC battery powered version of the award-winning Studio Force V 12 Phosphor™ variable white softlight for location work; the Auto LED II™ moving light specifically designed for precise stand illumination of motor industry tradeshows; and the new Color Block 2 Plus Nano™ versatile single cell LED system.
On show from Jands is the new Vista D1 playback processor providing an additional 8192 DMX channels for hardware models in the award-winning Vista lighting and media control range. In addition, new software features such as control of twice as many groups of LEDs or dimmers, will be demonstrated for the award-winning Stage CL "made for LEDs" console.
Receiving its North American launch at LDI is the ArKaos Studio Server. Featuring full HD output over up to four EDID managed outputs, the Studio Server has been designed to deliver optimal images for the high-end demands of studio, concert tour, television and corporate applications.
From Prolyte, the booth will display their H30V series of strong yet extremely lightweight truss for live event productions, and the Prolyte Barrier lightweight aluminium – only 77lbs per 3.28ft section – crowd barrier control system.
Highlights from LedGo's range of high-quality modular LED video panels include the 6mm black LED high contrast panels, featuring easy 'Rig and Click' hardware for quick assembly and very high refresh rates to avoid flickering on cameras.
Visit the A.C. Lighting Inc booth at LDI for a demonstration of these products, or contact the company on:
Tel: (416) 255 9494
Email: northamerica@aclighting.com
Web: www.aclighting.com
Recent News
News Search