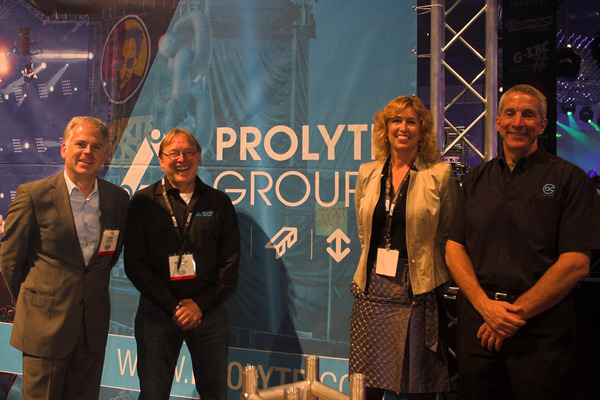 A.C. Lighting Inc. enjoyed an extremely successful LDI show, hosting the North American launch of products from Chroma-Q®, Jands and ArKaos, as well as announcing an exciting new distribution agreement with Prolyte Group.
Held at the prestigious Las Vegas Convention Center, A.C. Lighting Inc. welcomed a large selection of visitors to their stand from all corners of the entertainment technology industry.
Attracting a huge amount of attention at the stand was Chroma-Q's award-winning Inspire™ LED house light. Fusing entertainment, theatrical and architectural lighting capabilities, the Inspire was designed to seamlessly transform the look and feel of a performance venue, themed retail space or house of worship.
Also featured for TV Studio applications was the innovative new Studio Force Phosphor™ high output, daylight and variable white LED softlight range.
The brand new Jands Stage CL console was also very popular at the show, generating a real buzz on the stand. Designed specifically to control LEDs, the Stage CL is an entry level, self contained console that offers the simplicity of a generic fader desk for both static LEDs and dimmers.
Launched exclusively on A.C. Lighting Inc.'s stand, the ArKaos Stage Server drew large crowds with its many innovative features. Providing an ideal combination of scalability and creativity, the ArKaos Stage Server offers the perfect turn-key solution for seamless real time video playback at an unbeatable price.
Also featured was the revolutionary new MediaMaster Pro V3 software, featuring Video Mapper for easy mapping of video onto irregularly shaped surfaces and through multiple outputs.
On show from LedGo was their range of high-quality modular LED video panels. Amongst other models, the 6mm black resolution panels were very popular on the stand, providing extremely high refresh rates to avoid flickering on HD cameras.
Announced at LDI, A.C. Lighting Inc. were very pleased to be appointed as the North American entertainment industry distributor for Prolyte Group.
A leading manufacturer of truss, roof systems, crowd barriers, staging and hoists – with plants in the UK, The Netherlands and Romania – Prolyte Group also offer custom manufacturing through its Litestructures and Brilliant Stages divisions.
Ben Weijters, Prolyte Group's North and South American Account Manager comments, "For Prolyte Group, this is a very large step forward to give solid grounding to North American based sales. With a stockholding stronghold within North America, we are finally able to help customers with their requirements. We are very proud of this partnership and are thrilled by the opportunities this will bring to us both."
A.C. Lighting Inc.'s Vice President of Sales and Marketing, Fred Mikeska explained that "The integrity and safety of Prolyte's products is matched with an absolute capacity for designing solutions. The support of its engineering department is superb." Adding that "Prolyte Group offer the perfect solution for our clients, who require reliable and high quality systems at competitive prices."
The rights and ownership of all trademarks are recognised.
The information contained herein is correct at the time of printing, however as we are constantly refining our product range we reserve the right to change the specification without notice. E&OE.
Recent News
News Search